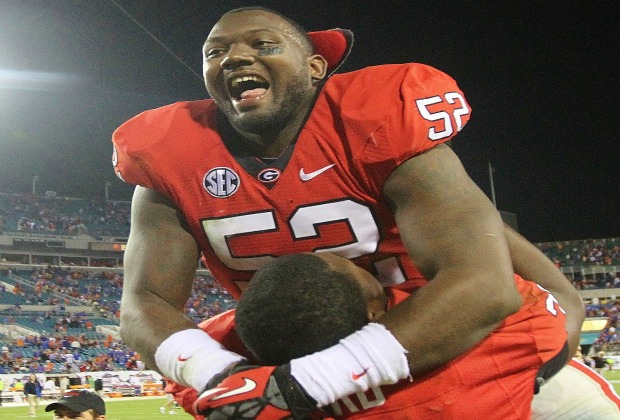 Rob Saye
For the second straight year, the Georgia Bulldogs will head to Atlanta as the winner of the SEC's Eastern Division. The Bulldogs clinched the division with a 38-0 rout of SEC rival, Auburn.
Georgia's title hopes took a hit after a blowout loss to the South Carolina Gamecocks in early October, but things have turned in the favor of the Dawgs since then. Pieces fell in place for the Dawgs every week and the last puzzle piece was a defeat of the Auburn Tigers.
"Oh, it's awesome," said Georgia quarterback Aaron Murray of clinching a SEC title. "After that game at South Carolina, to every week be praying that a team will lose and luckily they did. This is the SEC. Like I've been saying all year, you just never know who's going to win. We just knew we had to do our job, and that is to continue to win and continue to put ourselves in position. If teams did lose, we would be able to get back. And, like I said, South Carolina lost a couple and we've won out the rest of the way. We've continued to get better every week. I'm just extremely proud of our guys."
Aaron Murray was his usual accurate self against the Tigers, guiding the Bulldogs to a 14-0 lead in the first quarter. The quarterback threw three touchdown passes and Georgia would not look back from there while continuing to assault the Auburn defense.
Also playing a large role in the offensive onslaught was the Georgia freshman running back duo of "Gurshall", who contributed a combined two touchdowns and 121 yards. Todd Gurley rushed 11 times for 116 yards and Keith Marshall eight times for 105 yards.
Saturday's game marked the first time both backs had gone over the century mark in a game together since Georgia's September tilt against Tennessee. Gurley has gone over 100 yards in consecutive games since then, but Marshall has struggled of late. However, Marshall broke off a 62-yard touchdown run against the Tigers, easing any concern Georgia may have had about the freshman.
While the offense provided the fireworks against Auburn, the performance of Georgia's defense cannot be forgotten. Since being called out by senior safety Shawn Williams, the Georgia defense has allowed nine, ten, and zero points. On Saturday, the defense seemed to be at its best as it kept Auburn out of the end zone.
Having punched its ticket to Atlanta, Georgia will await the season's final week to find out who its foe will be.