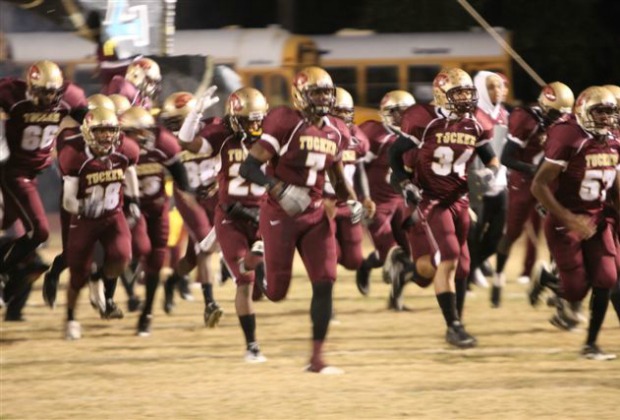 Photo by Tucker HS
Football kicked off this past weekend with a thrilling seven-game Metro PCS Corky Kell Classic and included plenty of must-see non-region matchups. This weekend marks the first full week of competition with games all across the state. The action is highlighted by the second annual Battle of the Borders at DeKalb County's Hallford Stadium in addition to four rare cross-state clashes.
DeKalb's top teams host the best programs from the state of Florida in a battle for gridiron bragging rights and as you can imagine, the matchups are loaded with prospects. To open the action, Marist takes on Godby out of Tallahassee, Fla. Marist enters its 30th season with Alan Chadwick at the helm and comes off a strong 11-3 season. Offensive tackle Sage Hardin is a UGA-commit and 6-foot-3 defensive end Kenneth Brinson is a three-star recruit leading Marist's pass rush. Godby is led by top prospects Jaylin Hayward, running back P.J. Simmons, offensive tackle Brendan Loftus (Miami-commit) and defensive end Danny Thomas (South Florida-commit). Godby finished 10-2 in 2013 and last won a state title in 2012.
M.L. King beat Blanche Ely 41-15 last year in the event. The Lions will take on Norland, Fla., which fell 29-12 to Stephenson last year at Hallford. New M.L. King coach Nicolas Kashama leads the Lions and he will have seven returning starters after a 7-4 finish last year. Norland looks to bounce back from a 4-7 year and a return to prominence after winning the Class AAAAA state championship three short years ago.
HEAVYWEIGHTS …
The final two games of the Battle of the Borders feature four factories for college talent and you would have trouble finding any other two games in the country this weekend with more individual talent taking the field. Stephenson faces Miami Central in the Game 3 slot. The Rockets are coming off a 13-1 season that resulted in the Florida Class AAAAA state title. Central brings back nine starters and is ranked in the top 10 in the nation this season.
Stephenson is still searching for the first state title in program history and enters its 19th season under head coach Ron Gartrell. Gartrell is 153-56 as the school's only head coach and the Jaguars are coming off a 9-3 season. Stephenson is already off to a hot start with a 12-0 win over Tucker in its preseason scrimmage and a 41-6 victory over Arabia Mountain to open the season last Friday.
Stephenson boasts one of the best receiving corps in the southeast. Nebraska commit Nekyle Lundie, Kansas State commit Isaiah Zuber, Georgia State commit Tyler Taylor and South Carolina commit Dexter Neal are all Division I-bound senior receivers. Defensively, Chauncey Rivers is a 6-foot-3, 247-pound four-star defensive end committed to UGA.
Miami Central not only fills college rosters, but it sends players into the NFL at an alarming rate. The Rockets have an enrollment of 1,665 students and put three players—Stanley Jean-Baptiste (Saints), Devonta Freeman (Falcons) and Kevin Pamphile (Bucs)—into the NFL during this year's draft. Three draft picks in 2014 were more than 27 states managed. Da'Vante Phillips leads Central's receivers and is one of the highest nationally-ranked wideouts. Safety Calvin Brewton is a Florida State-commit.
THE MAIN EVENT …
ESPNU broadcasted Booker T. Washington (Fla.) in 2013 as it traveled up to top- ranked Norcross and walloped the Blue Devils 55-0 on their home field. The Tornadoes never slowed down and capped off a perfect 14-0 season and a national title as a Class AAAA school. It is Tucker's turn to face the Tornadoes and the two teams play in the final game of the Battle of the Borders.
The Tigers lost an overtime heartbreaker to Norcross in the Corky Kell Classic last Saturday and will need to clean up what was a sloppy 15-penalty performance. Look for the Tigers to run the ball more with Delvin Weems, a bulldozer out of the backfield that is committed to Marshall. Leading the defense is Jonathan Ledbetter, a four-star UGA commit and defensive lineman. Duke Shelley is a Kansas State-commit that can play either side of the ball as a cornerback or receiver and Elijah Sullivan is a linebacker committed to Auburn.
Booker T. Washington is paced by Miami-commit and running back Mark Walton along with a bevy of defensive prospects.