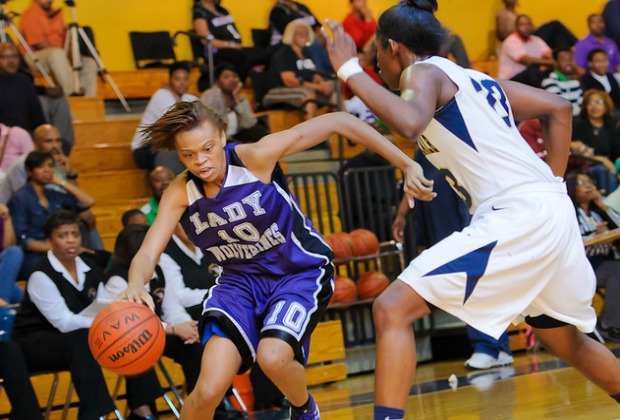 Ty Freeman
Gene Durden's Buford girls program has suffered through plenty of tragedy this season and lost the nation's No. 2 recruit Kaela Davis several weeks ago to an injury. Despite the setbacks, the Wolves still managed to capture the Region 7-AAA tournament title as Kristina Nelson is starting to play up to her potential. Nelson notched 20 points in the championship game and is a force underneath the basket. Maya Dillard and MacKenzie Darrah are also stepping out of the shadows to contribute big points with more shots available.
SHOWCASE SHOWDOWN …
In what could probably pass for a state final, Region 8-AAAAAA champion Parkview will put its undefeated season on the line against Norcross in the second round of the playoffs. Norcross, which fell in the Region 7-AAAAAA finals to North Gwinnett, boasts former Georgia Gatorade Player of the Year Diamond DeShields as well as Shayla Cooper, who is headed to Georgetown. North Gwinnett is on the other side of the bracket and could face Woodstock in the quarterfinals and perhaps North Cobb or Tift County in the semifinals. Lexie Brown, Peyton Whitted, Baylee Rexing and Joshlyn Belcher all are thirsting to bring North Gwinnett its first girls basketball state title.
Elsewhere across the state, defending Class AAAAA champion Miller Grove has what appears to be an easier trip to the semifinals than the team that beat them for the Region 6-AAAAA title, Southwest DeKalb. Stephenson is a threat after beating Kell in the first-round.
Columbia is back on top of Class AAAA entering the state playoffs and no discussion of Georgia high school basketball is complete without mentioning the always-loaded Wesleyan Wolves. Jan Azar has this collection of talent brimming with confidence and ready for all comers as Wesleyan attempts to win the program's sixth straight title but first AA title since 2008. Wesleyan has captured nine titles since 2002 and has Katie Frerking, Brittany Stevens and a host of other players that will take their talents to the next level ready to charge through the AA bracket.