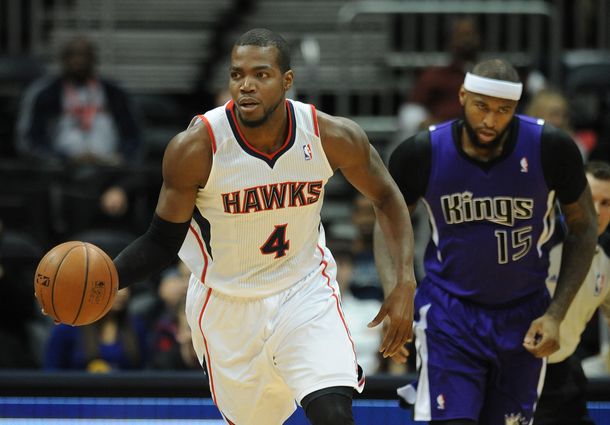 Photo by Johhny Crawford/ JCRAWFORD@AJC
During the long NBA season, teams will be faced with adversity, whether it being in the form of heart-wrenching losses or injuries. For this year's Atlanta Hawks, this season brought hope and belief, but injuries have attempted to derail their season.
RED CROSS REPORT …
Superstar Al Horford has been lost for the season to a torn right pectoral muscle. This past week it was announced that his primary replacement, Pero Antic, was going to be shut down 2-4 weeks because of a stress fracture in his right ankle that occurred on the team's trip to London. On the day Antic's injury was announced, Jeff Teague landed awkwardly on Tim Duncan's foot causing a sprain to his left ankle that has kept him out of games against the Bucks and the Thunder. Demarre Carroll has also missed time with a hamstring injury and Kyle Korver has missed time as well. Second-year shooting guard John Jenkins appeared in 13 games this season while dealing with a lower back injury that occurred over the summer. It caused a nerve problem that leads to numbness in his legs and has caused him to consider back surgery that would keep him off the court until next season.
Through all of this the Hawks keep competing, and more times than not, winning. Even some of their losses of late have been impressive. Monday night they led the Thunder for most of the game, only to lose on a Kevin Durant jumper with 1.5 seconds remaining. This occurred while Durant is in the middle of a historical scoring streak. The loss dropped the Hawks to 7-8 without Horford this season, but they haven't been playing bad basketball during all of those losses. Losses that came to the Warriors and Thunder went down to the wire, and games against the Bulls, Nets and Grizzlies got away from them late. Atlanta has been able to accomplish this with a next-man-up philosophy.
When Al Horford went down, the Hawks were sitting in third in the East and most people counted them out, but they are still in possession of home-court advantage in the first round of the playoffs, tied with the Raptors for the third best record in the East. In Horford's absence, Pero Antic has stepped up and provided a prescience at the rim on defense, but also has provided an added element to the offense to make up for the loss of Horford's production. Since stepping into the starting role, Antic has averaged 9.5 points and 5.5 rebounds a game while also adding 1.4 assists.
While he doesn't block as many shots as you would expect, Antic helps very well coming across the lane and doesn't allow for many uncontested layups. Per 100 possessions, he is producing 108 points on offense and allowing 106 points on the defensive end, which gives him a net rating of 2. That number had been rising with more playing time show- ing that he was able to take on more of the load and a higher usage rate. What can't be seen on the stat sheet are the shots he creates with his floor spacing, by keeping his defender out of the lane and allowing Paul Millsap to work without the fear of help defense coming over.
Millsap has seen his usage rate continue to climb with all of these injuries creating turmoil in the starting lineup that now features Gustavo Ayon, who until Antic's injury, was buried on the bench and had only seen action in two of the nine games this month. Millsap's usage is now at 25.2, up from his career aver- age of 21.1. This season Paul has added another tool to his arsenal, by working on his three-point shot and in the process, keeping his defender honest when he catches the ball behind the arc. He is connecting on 36.9 percent of his attempts and this allows him to draw his defender a little further out from the basket than and years past and he can now use his quickness to put the ball on the floor and get by his man and get to the basket. He is now drawing more double teams in the post which allow him to find the open man and utilize coach Mike Budenholzer's offense that is predicated on moving the ball around using quick passes to find the open man. This has seen an increase in Millsap's assist numbers. Millsap earned a trip to the All-star game on Thursday and will be a reserve for the Eastern Conference.
One of the main guys Millsap is looking for is Kyle Korver on the wing. Korver is having the best season of his career, seeing more min- utes than he has in the past and is still producing at the same high level offensively as he has in the past. He has the 11th-highest offensive rating in the NBA this season and continues to use his three-point shot to his advantage, connecting on 46.1 percent of his attempts. This proficiency from behind the arc has him behind only LeBron James in true shooting per- centage. This season, when Korver has been finding open looks and getting his shot off, the Hawks have been winning, so it has been key for Teague and Shelvin Mack to find him when he is coming off screens and putting the ball in a position for him to get his shot off before the defense can recover.
The Hawks' point guards have been thriving in the new offense the Budenholzer has brought over from the Spurs. Teague has con- tinued his trend of improving each and every season, seeing his numbers rise to 16.2 points per game and 7.3 assists per game. These numbers have garnered him some attention for the All-Star game, but his injury will probably keep him home, giving him time to fully heal.
LOOKING AHEAD …
If the Hawks continue to play at this level despite losing their stars, then coach Mike Budenholzer will have done one of the best coaching jobs in the NBA. Before the season, the Hawks were projected to be competing for one of the final playoff spots in the Eastern Conference. Had those projections been made knowing that Horford would only play in 29 games, it would have likely said the Hawks would be picking in the lottery. So far this season has exceeded expectations and many would call it a success, but don't tell that to these Hawks, who are striving for better and won't be satisfied with just making the playoffs.