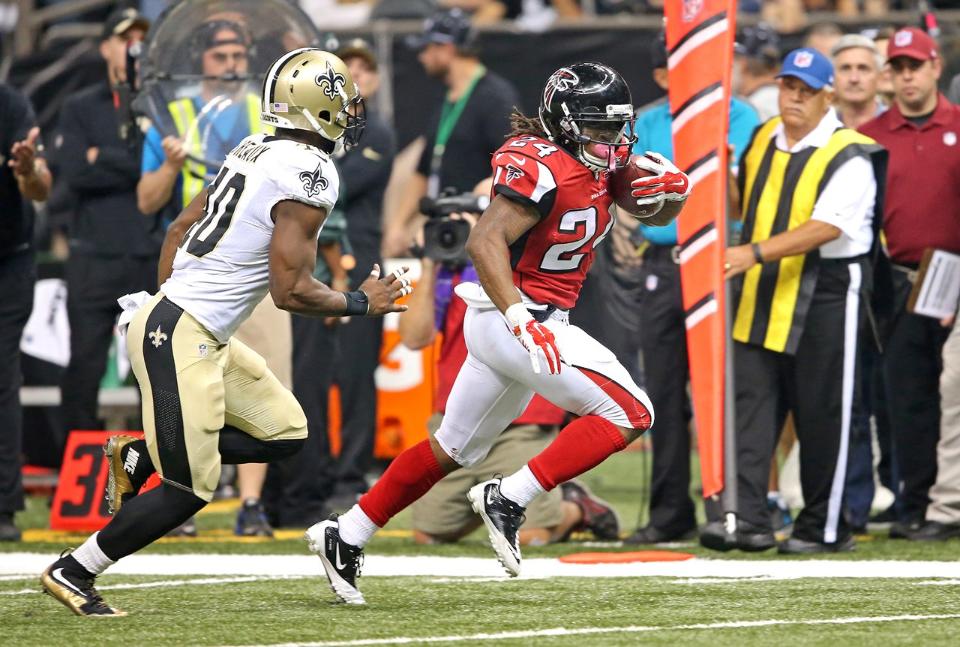 AtlantaFalcons.com
Second year running back Devonta Freeman has taken the NFL by storm as an integral part of the Falcons success this season. He has etched his name in the League's record books and made thousands of fantasy football owners incredibly happy, but there is more to his story that makes him such an important leader both on and off the field.
Sports have their own platform of the hero's journey we're all familiar with. Overcoming adversity, battling past rivals and stepping up when it is needed most are the patented challenges that are also retold in mankind's most well-known works of literature, film and plays. Our awareness of these hurdles is the reason it inspires us when we see a real life hero's journey unfold. Freeman's own path to the Falcons brings our awareness of the hero's journey to life and proves that grit can master any realm of expectations, overcome incredible odds and transcend far beyond the playing field.
BEATING THE ODDS…
Freeman arrived at the NFL combine with the attributes of a complete running back. His ability to run and catch the football was supported with his combination of speed and power. Fueling the talent, however, was a work ethic and positive attitude that steered Freeman as he took on seemingly any situation life threw his way. As a result, he was well-prepared for his newest role in Atlanta when the Falcons took the 5-foot-8, 206 pound running back off the board in the fourth round of the 2014 draft.
Freeman grew up in Liberty City, the 13 square blocks of Miami Public Housing known as the Pork 'N' Beans Projects. First built in the 1930's after the Great Depression, the neighborhood has become notorious for its gun violence and crime over the past decades.
"Pork 'N Beans is the toughest neighborhood in Florida because you never know what you're going to get," Freeman told the Miami Herald before draft day. "You can walk down the street and somebody could start shooting. An argument can break out, people start fighting. Somebody could rob you. How we kept our tunnel vision was we knew what we wanted in life."
From the time Freeman declared for the draft following his 2014 junior season at Florida State, to the Falcons first preseason game that August, 43 shootings had been documented within his old neighborhood. The tunnel vision Freeman used to escape that environment was not to forget where he came from, but to focus on where he could take himself. Knowing he could make something more of his life if he stayed focused, Freeman started working three jobs at the age of 12 and helped support his six younger siblings. He picked up athletics and excelled in baseball and football. As his varsity career picked up at Miami Central High School, it was clear that Freeman had exceptional football talent and the mindset to achieve great things. His varsity career ended with Freeman leading the Rockets to their first state title, rushing for 308 yards on 36 carries and earning MVP honors of the Class 6A state title game.
At Florida State, two injury-plagued seasons for starting running back Chris Thompson gave Freeman opportunities to play as a true freshman and sophomore. Freeman ended up leading the Seminoles in rushing attempts (120), yards (579), average per rush (4.8), rushing touchdowns (8) and yards rushing per game (48.2) his first year on campus. After he was thrust into the leading role again his sophomore season, he added 660 rushing yards and eight rushing touchdowns, while leading the team in carries three of the final four games. It was not until his junior year that Freeman earned the starting job, but he made it count.
Despite sharing carries with two other backs in the Seminoles' three-headed attack, Freeman still earned First Team All-ACC accolades with 15 total touchdowns. He became FSU's first 1,000-yard rusher since former Falcon Warrick Dunn did it in 1996, finishing the season with 1,016 yards. He wrapped up his collegiate career with a BCS National Championship and declared early for the draft. Despite only starting one full season, Freeman tallied the third most rushing touchdowns in school history with 30 and the eighth most rushing yards in FSU history with 2,255 yards.
JUST GETTING STARTED…
Freeman's list of accomplishments is impressive, but what he has done over the past four weeks could top them all.  Since taking over the starting running back duties full-time Week 3, Freeman has scored 10 touchdowns out of the Falcons backfield (9 rushing and 1 receiving), putting him on pace to break the franchise record for rushing touchdowns in a season (17) held by Michael Turner.
He became the first player in the modern history of the NFL to score three touchdowns in each of his first two starts. After torching the Cowboys and Texans with his combined six rushing touchdowns, Freeman forced overtime with his touchdown run against the Redskins before Robert Alford clinched the game with a pick-six that moved Atlanta to 5-0.
Freeman added a season-high 7.7 yards per carry against the Saints Week 6, while notching 100 yards rushing and crossing the goal line for his ninth rushing touchdown of the season. Freeman also added a game-high eight receptions for 56 yards and scored his first receiving touchdown of the year.
"You see what he's capable of doing week in and week out," said quarterback Matt Ryan. "It's fun to watch. He's a great competitor."
Freeman's lead by example attitude and toughness on the field has been contagious and his focus remains on doing whatever he can to help the team. As a result, his impact on the field this season continues to grow, as has the confidence his coaches and teammates have in him.
"We are doing a great job," said Freeman. "Everybody, [offensive coordinator] Kyle [Shanahan], the offensive linemen, the quarterback, the receivers, everybody is doing a great job as a whole unit. We turned this thing around together. We said back in April what we wanted to stand for, so it's all showing and paying off right now. Everybody is living up to our expectations."