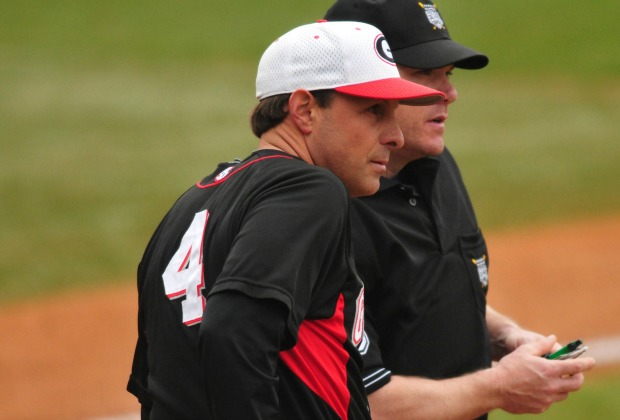 Georgia Sports Communications
SEC conference play begins Friday when the Georgia Bulldogs travel west to College Station to face the Texas A&M Aggies in a three-game series. The away game marks the Dawgs' fifth game away from Athens, but this trip will be the team's first out-of-state contest this season. The Dawgs will have to rebound from another midweek loss, this time losing to the Appalachian State Mountaineers, 8-5.
Getting off to a fast start may seem sort of cliché, but that is exactly what Georgia must do if the Dawgs want to sustain any type of winning streak. The Dawgs are an abysmal 2-6 in games when trailing after the first inning and have only managed to produce one win when trailing after the second inning. When Georgia scores first, the team is a polar opposite, 6-2. The proof is in the pudding: jump out to a quick lead and the chance of bringing home the "W" increases exponentially.
With Texas A&M up next on the Dawgs' schedule, the road to Omaha certainly does not get any easier. The Aggies are 11-7 but garner a 9-3 record at Blue Bell Park in College Station. The Diamond Dawgs will certainly have their hands full this series, especially considering the Aggies are still buzzing from a huge walk-off win this past Tuesday. The win gave Aggies head coach Rob Childress career victory No. 300.
On the flipside, the Dawgs are currently undefeated in night games (4-0) and first pitch just so happens to be slated for 7:00 p.m. Having its ace pitcher, Sean McLaughlin, starting the series opener also bodes extremely well for Georgia as the team looks to set the tone early and climb back to .500 for the fourth time this season, a feat that skipper David Perno and the Bulldogs have consistently grappled with in 2013.
When the Bulldogs are on their game, they are almost impossible to beat. During Georgia's three-game winning streak, the team became very patient at the plate, forcing the opposing pitchers to throw strikes. This strategy resulted in 33 runs being scored during the streak. Pitching also played an integral role in the winning streak as the Dawgs did not allow more than two runs in a game.
Although easier said than done, if the Bulldogs can rekindle the magic that propelled the team into its longest winning streak of the season, they might be able to consider a run to Omaha.
Notes: Senior third baseman Curt Powell is riding a 13-game hitting streak, one off his career-best streak accomplished in 2012. … Sophomore second baseman Nelson Ward in the middle of a 10-game hitting streak, a career high for the Dawgs' leadoff man.