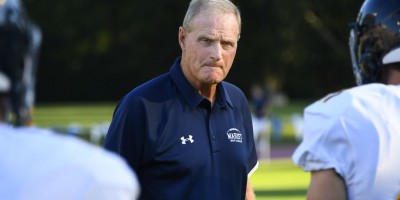 Marist coach Alan Chadwick watches his players as they warm up prior to a 2019 game at Lovett. (John Amis/Special)
The 50th episode of the "Georgia Prep Sports: From a Distance" video podcast features Dr. Gary Levengood, who will discuss all updates on the COVID-19 pandemic in relation to the upcoming high school sports season.
Host I.J. Rosenberg, the president of Score Atlanta, will also have Marist head football coach Alan Chadwick, who has been with the War Eagles since 1985 and won state championships in 1989 and 2003. Also joining the show is David Perno, the Clarke Central football coach who also coached baseball at the University of Georgia from 2002-2013. Last year, Perno coached the Gladiators to their first region title since 2011 after upsetting Buford 31-28 in the region 8-AAAA title game.
The podcast is produced by PlayOn Sports, which runs the National Federation High School network, and airs Mondays, Wednesdays and Fridays, starting at noon.
Follow the LINK to watch.