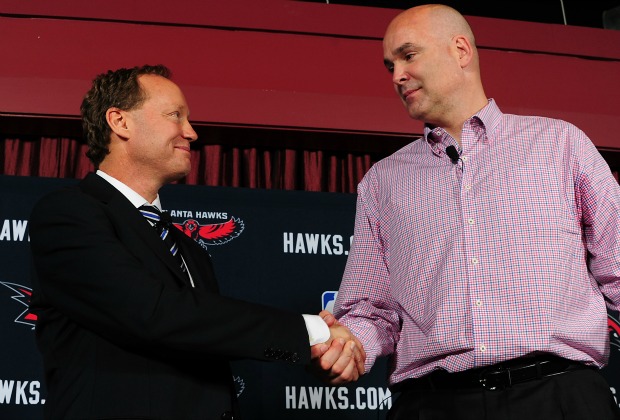 AtlantaHawks.com
As the 2013-2014 NBA season concluded, I felt dejected. My viewing passion of the sport was all but gone and I wanted to reclaim that feeling. Fortunately for myself and most in- ternational sports fans, my attention was turned to the wonderful event that happens every four years; the World Cup. More exciting than a leap year, I joined my fellow Americans to bleed red, white and blue at the local Taco Mac. Then, it hit me. News of LeBron's free agency reminded me of the 'feeling.' I started to piece words like 'Welcome to Atlanta' with names like 'Kevin Love' in a large billboard over I-75. I was getting ahead of myself, but one thing was for certain; our beloved Hawks are looking to continue big things in Atlanta. How could I for- get that chokehold we put on the Pacers in the playoffs? Or the brilliant Spurs-like, championship-bound system of Coach Bud?
PROJECTION-PALOOZA …
The Hawks have picks in Thursday's draft at Nos. 15 and 43. Projections have already flooded the internet as experts make their calls for the Hawks. Names like Kentucky's James Young, Creighton's Doug McDermott and Switzerland's Clint Capela have surfaced as potential first-round heroes to deliver the Hawks further. Historically, No. 15 is a big deal. This year's NBA Finals MVP, Kawhi Leonard, was the 15th overall pick in 2011.
Steve Nash, two-time NBA MVP and eight-time NBA All-Star, was selected by the Phoenix Suns in 1996 at pick No. 15. As history preludes, we have the potential to bring in a future superstar and develop them under the beautiful 'Bud' system. As for No. 43, I think of Michael Redd, argu-ably the biggest steal in the Big Ten's basketball history. The Hawks also took Mike Scott at 43 in 2012. Yes, the same Mike Scott that silenced a Pacers crowd in Game 5 shooting 5-6 from three point range off the bench for 17 points in the second quarter alone.
NEEDS AND WANTS …
Despite the injuries to All-Star Al Horford and many others throughout the season, the Hawks were still an eighth-ranked playoff team with a losing record (38-44). The playoffs proved how quick we could come together, despite odds, and play some well-coached basketball. As such with any team, we have areas where we shine and areas that could use some work. Jeff Teague was phenomenal at the point guard position. He led the Hawks amongst the top two teams ranked in assists (24.9) last season (San Antonio ranked first – 25.2). Coach Mike Budenholzer established a system that contrasted an isolation-focused method of Larry Drew and Mike Woodson. With Teague and Dennis Schroder under contract, we probably will not look to draft a natural point guard. Playmaking seems to be a potent strength the Hawks have and proved in the playoffs.
However, I'm a firm believer in selecting the best available player on the board. So if Tyler Ennis from Syracuse is somehow still on the board at 15, I see no problem in taking him. What the Hawks need is some reinforce-ment under the basket. Rebounding was slug-gish and ultimately the downfall against Indiana. The Hawks were ranked 28th in rebounding amongst 30 teams. The Hawks will likely look to solve this issue at 15. They will also be aware of Al Horford's health, looking to provide some back-up in case Horford goes down again. However, a healthy Horford alongside the return of 2013 first-round pick, Lucas Nogueira, would increase our rebounding substantially and allow us to go several directions with pick 15. Danny Ferry could even go after Kevin Love.
LOOKING AHEAD …
It's always exciting to speculate. I am not an expert when it comes to the draft, but I believe we have the best experts in the world handling the Hawks. Coach Bud has already established a system in his first year and the core group remains very strong. Steve Koonin will give fans what they want. Most importantly, Danny Ferry knows exactly what he wants to do.
"We are looking for, whether it's the draft or free agency, are guys who are highly competitive, unselfish and talented," said Ferry.