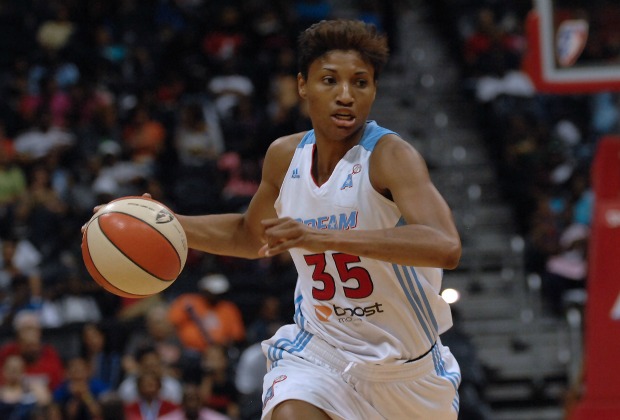 Sonny Kennedy
For the fifth straight season, the Atlanta Dream will be in the WNBA playoffs. Atlanta won three of their last four games to clinch a postseason spot. The Dream picked up a huge road win in New York, led by their all-star forward Angel McCoughtry. McCoughtry scored 16 points in the 70-57 win.
Following the victory, McCoughtry spoke to the media and indicated that the win helped the team gain momentum going into this year's playoffs. "It's really important to finish up strong, just to get that momentum for the playoffs and keep the No. 2 spot," McCoughtry told the team website. "We just want to get that confidence going in. We don't want to go in feeling kind of down and losing, so it's really important for that momentum."
UPGRADING …
In order to clinch the second seed in the WNBA's Eastern Conference, the Dream will have to win one of their last three games. That sounds simple enough, except that all three games will be on the road. This team has been up-and-down all season. Atlanta is up again and just at the right time. Winning one game is important, but winning all three would give the Dream a lot of momentum for a playoff run. Championship teams win on the road and this is the time to show whether or not the Dream can be a championship team. Atlanta cannot catch Chicago for the top spot, but gaining a home-court advantage is extremely important. In 17 home games this season, the Dream was 13-4. On the road, the record is a dismal 4-10.
ANGEL HONORED …
The Most Valuable Player award is usually given to a player who leads consistently all year long. Angel McCoughtry has certainly been the leader of the Atlanta Dream and is in high contention for the MVP this year after winning the WNBA Eastern Conference Player of the Week award for the fourth time in 2013. McCoughtry led the Dream to a 3-1 record, while averaging 21.8 points, 4.5 assists and 2.5 steals per game for the first week of September. On Sept. 6, the all-star forward scored her 3,000th point in a win at New York. McCoughtry has scored 3,000 points in just 154 games, which is the third fewest in WNBA history. This was the 11th time that McCoughtry has won Player of the Week in her career.