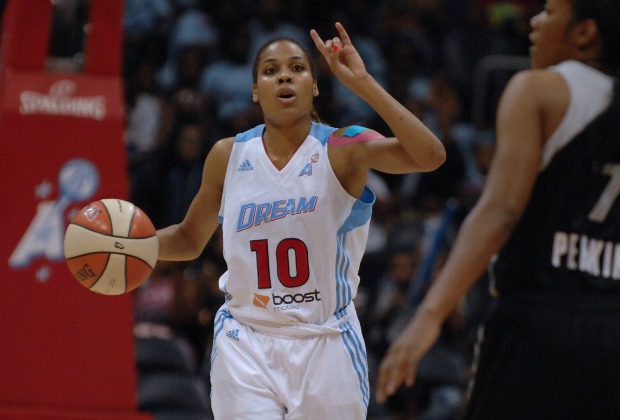 Photo by Sonny Kennedy
The Atlanta Dream lost their first game of the season as they traveled north to Chicago to take on the Sky last Saturday. Elena Delle Donne scored a season-high 27 points to lead the Sky to an 87-73 victory over Atlanta. Atlanta simply could not stop Delle Donne, a deadly 6'7" sharpshooter and 2013 WNBA Rookie of the Year. Erika de Souza led the Dream with a double-double (18 points, 12 rebounds). Atlanta rookie Shoni Schimmel, the WNBA leader in assists, contributed 17 points and eight helpers. Chicago was without two all-star start- ers in Epiphanny Prince and Sylvia Fowles.
The Dream (2-2), played without Angel Mc- Coughtry (22.3 points per game), who was a late scratch due to a shoulder injury. The Sky's bench outscored the Dream's bench 35-28 and Chicago also led by as many as 12 points in the fourth quarter, sealing the outcome well before the actual finish.
"She's better," said Dream coach Michael Cooper said of McCoughtry's progress. "I think it was more precautionary measure for her be- cause we play tomorrow."
TWO-GAME SKID …
McCoughtry returned to the starting line- up for the game referenced by Cooper, a home date with Indiana last Sunday. It would not be enough, however, as turnovers plagued the Dream in an 82-77 overtime loss. McCoughtry scored 19 points, but it was apparent that the shoulder issue still bothered her.
"I felt good for the most part, but my shoulder is still hurting," said McCoughtry.
Indiana found a spark in Erlana Larkins, who recorded with a double-double (13 points, 22 rebounds). Larkins was unstoppable on the glass, finishing just two rebounds shy of the WNBA single-game record set by Washington's Chamique Holdsclaw in 2003.
"When you have a player dominate the boards like that, it is going to be tough for you to win some games," Cooper commented. "This is like a boxing match, delivering shots and taking shots."
Atlanta committed 21 turnovers, which led to 27 points for Indiana. The Dream shot 20 percent from the three-point line and struggled finding good shots in the final minutes of regulation. Indiana also scored the first six points of overtime. The Dream will look to get back on track at Philips Arena on Friday against a struggling Seattle team that is 1-3 through four games. A four-day layoff in the meantime is giving Mc- Coughtry some time to overcome her injury.