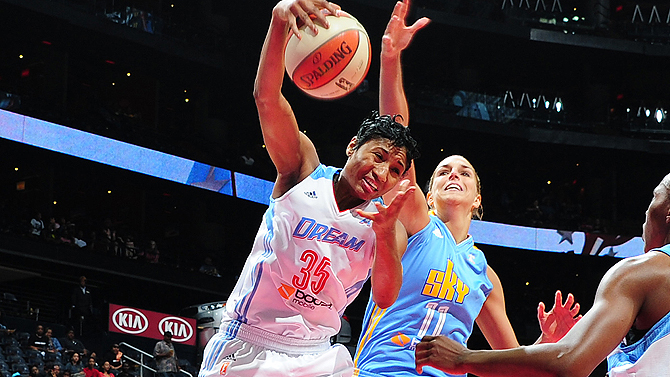 Scott Cunningham/NBAE/GettyImages
ATLANTA – Tuesday night's game three in the Eastern Conference Semi-Finals between the Atlanta Dream and Chicago Sky at Philips Arena ended in a 81-80 Chicago victory that ended Atlanta's season.
At tip-off both teams came out with a great hustle knowing the magnitude of the game.  Things were looking up for the Dream as they were able to close out the opening quarter holding Chicago star Elena Delle Donne only to two points and Sancho Lyttle had already netted 10.
As the second quarter began, and it seems like the Dream still had everything under control until Delle Donne was able to get into her groove by making a few jumpers, nailing a three, and getting to the foul line. Her teammates on the other hand were able to support her by improving on their defense to hold the Dream off from taking full control with a 20 point lead. With 3:42 seconds before the half, Angel McCoughtry and Tamera Young exchanged words and McCoughtry picked up the technical foul. The Dream, however, refocused and took a 54-41 lead into the half.
With 10 minutes to play, Atlanta had a 20 point lead. Chicago silenced the crowd with quick back-to-back baskets and Delle Donne went on to score 13 of her 17 fourth quarter points within a 19-2 Sky run that tied the score at 74-74 with 3:26 remaining.
All five starters for the Dream scored in double figures. Donne finished with a game-high 34 points to lead Chicago to their next round matchup with Indiana.