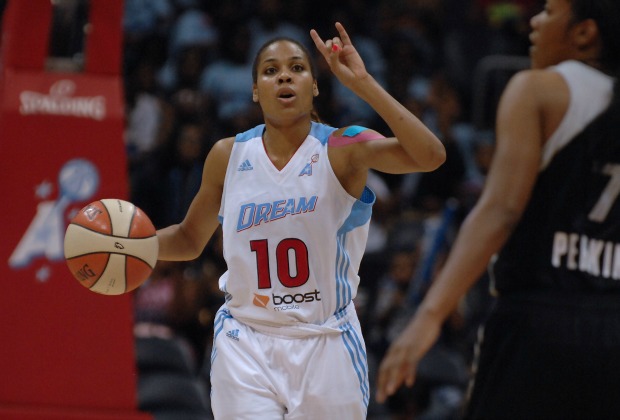 Photo by Sonny Kennedy
Atlanta entered Sunday's game against the New York Liberty riding the longest winning streak in franchise history after extending it to six games with victories on June 18 against Washington and June 20 against the Liberty. The streak, however, like all others in sports, came to an end as the Dream fell to the Liberty 85-78 at Madison Square Garden.
TIME TO REGROUP …
New York, carrying a five-game skid into Sunday, saw veteran guard Cappie Pondexter take charge late in the second quarter, leading them on a 29-6 run over a 10 minute span as the eight-year veteran finished with 23 points and eight assists. Atlanta's Angel McCoughtry led all scorers with 33 points, a season-high, and pulled down 10 rebounds for her first dou- ble-double of the season. After the game, the six-year veteran felt that the team let its guard down too early, which led to the big New York run and eventual loss.
"We relaxed a little bit when we built that lead and they jumped on us," McCoughtry said. "We'll regroup and get back to winning again." Atlanta's next matchup will be on Thursday, June 26 when they visit the San Antonio Stars.
ANGEL HONORED …
The WNBA league office announced on Monday that Dream guard/forward Angel Mc- Coughtry was named WNBA Eastern Confer- ence Player of the Week. This is the 12th time in McCoughtry's six-year career that she has been given the award. She averaged 26 points during the week, best in the conference, along with 7.3 rebounds, 4.0 assists and 2.7 steals per game. She was largely responsible for the two wins re- corded for the Dream over the past week. Rookie Shoni Schimmel and McCoughtry entered Wednesday among the top vote-getters at their positions for the right to be named a starter in the 2014 Boost Mobile WNBA All Star game set to take place in Phoenix, Ariz.
Schimmel currently carries more than twice the closest number of votes over her closest competitor at the guard position, accumulat- ing a total of 14,635 votes. Washington Mys- tic guard Ivory Latta follows Schimmel with 5,974 votes. Chicago Sky's Elene Delle Donne currently leads the frontcourt in voting with 16,452 votes while McCoughtry comes in the second spot with 9,736. All-Star game starters are set to be announced on July 8.