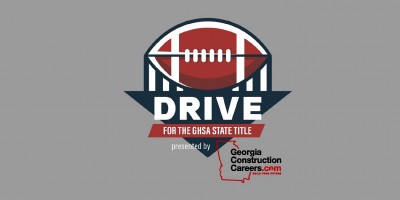 Score Atlanta is partnering up with CBS46 affiliate PeachtreeTV to televise four Fridays of the 2020 GHSA Football State Playoff action in the Metro-Atlanta area, starting with the opening round on Nov. 27 and culminating with the semifinals on Dec. 18.
This new initiative is sponsored by GeorgiaConstructionCareers.com and will be referred to as the "Drive for the GHSA State Title."
The same leadership and crew that presented the Corky Kell Classic and Great Atlanta Bash earlier this season will be working behind the scenes to ensure that all the safety protocols are in place to execute another successful and exciting broadcast. Veteran play-by-play announcer Paul Crane and Rusty Mansell of 247Sports will be in the booth to call the games, while Ashley Rose is slated to host the pregame and halftime shows with former Brookwood football coach and athletics director Dave Hunter and Score Atlanta chief high school editor Craig Sager II.
"It's been several years but we put in the Friday night games as well as the playoff games at Georgia Public Broadcasting and reformatted the state championships where we stayed live on site (then the Georgia Dome) and added in halftime and between game shows,'' said I.J. Rosenberg, president of Score Atlanta. "It is a successful model and with Covid limiting the number of people that can go to the games, we felt strongly about putting another playoff game on TV on Friday nights. We have a strong partnership with CBS46 and PeachtreeTV has a long history of doing sports as well as it being the original SuperStation.''
Additionally, Score Atlanta's crew will be providing live score updates and the latest brackets during the broadcast to keep viewers in tune with all of the playoff action unfolding across the state. Sager will work from the Score Atlanta studios where every Friday night a crew of 10 workers put together scores and roundups for the Atlanta Journal-Constitution, AJC.com and the Score Atlanta live high school scoring app. Each of the four broadcasts will also be streamed digitally on the National Federation High School Network.