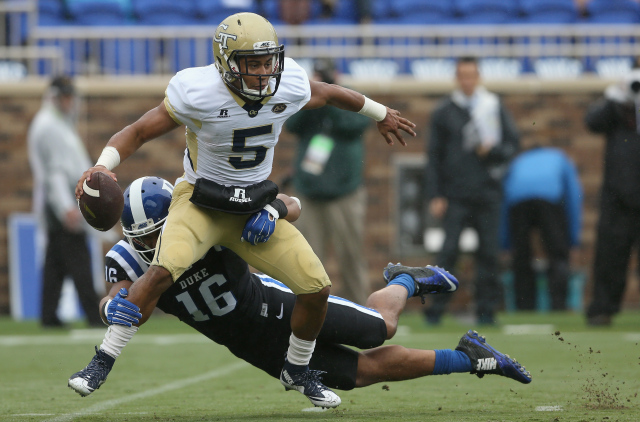 Photo By Streeter Lecka/Getty Images
DURHAM, N.C. — Georgia Tech started the year with two easy wins, but the promising start has diminished after dropping their last two with the latest defeat coming at the hands of the Duke Blue Devils 34-20 last Saturday.  The Yellow Jackets managed just 176 yards on the ground which snapped a 17-game streak of rushing for 200 yards or more.
Quarterback Justin Thomas was held to just 58 yards rushing on 24 carries and completed just 6-of-21 through the air for 143 yards and a touchdown. B-back Patrick Scov led the Yellow Jackets in rushing with 78 yards on 19 carries.
No other player rushed for more than 15 yards in the game for Georgia Tech.
The lone bright spot on the Yellow Jackets' offense was sophomore wide receiver Ricky Jeune who caught four passes for 91 yards and a touchdown.
On the defensive side of the ball, the Yellow Jackets held Duke to just 279 yards of offense and got interceptions from true freshman A.J. Gray and Lawrence Austin.
The Yellow Jackets started off the scoring with a 53-yard field goal off the foot of Harrison Butker, but quickly found themselves down 13-3 after two quick scores from the Blue Devils.
Duke tacked on another touchdown after the Yellow Jackets surrendered a 69-yard punt return that resulted in a 1-yard touchdown run from Shaquille Powell to make it 19-3 at the end of the first quarter.
Georgia Tech was able to answer with a touchdown of their own late in the second quarter after a 12-play, 74-yard drive that ended with a 10-yard touchdown pass from Thomas to Jeune on third-and-goal to make bring the score to 19-10.
After another Georgia Tech field goal midway through the third quarter, Duke answered with a 100-yard kick return for a touchdown to give the Blue Devils a 26-13 lead.
Georgia Tech managed to cut into the lead once again after an 11-play, 88-yard drive that ended with an 12-yard touchdown run to make it 26-20, but that was as close as the Yellow Jackets would come.  Duke tacked on one final touchdown in the fourth quarter to secure their 14-point victory, marking Duke's second consecutive win over the Yellow Jackets.
"We're just not a very good offensive football team right now," Tech coach Paul Johnson said. "There is no secret formula. "There's nothing you can do if you cannot block people and you cannot execute and go to the right people."
The Yellow Jackets will return home for the first time in three weeks to take on the North Carolina Tar Heels, a game in which Georgia Tech lost in 2014.