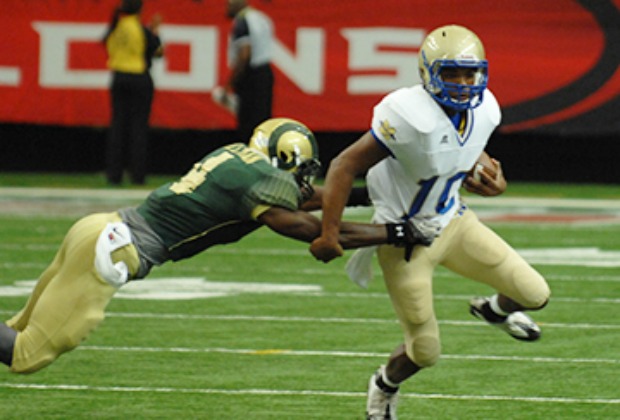 Sonny Kennedy
McEachern enters the 2013 season with reason for confidence. The Indians ran away with the 2012 Region 4-AAAAAA title and will be returning 14 starters.
"We are very excited," said coach Kyle Hockman. "We have a really good core of returning starters and seniors who have really been committed and are working hard for this upcoming season."
The week after a 33-30 victory over Hillgrove to close the regular season with an 8-0 region record, The Indians lost to Colquitt County 30-28 in the first round of the AAAAAA playoffs. The early exit fueled Hockman and his group of returning players, and the coach has tried to remain patient before they hit the ground running in 2013.
"At this point, execution is going to be a little bit raw," said Hockman. "We haven't done any of the (actual) football stuff yet, so that's going to be the main focus from the get go when practice really starts hitting in late July and August. Just executing our base plans and fundamentals. I think our kids are in great shape. They are conditioned and strong, and if they can execute the fundamentals, we will be ok."
With a list of leaders and key players on this team, it was a challenge for Hockman to point out the chief of his squad.
"I have lots of leaders on the team," said Hockman.
Quarterback Ty Clemons is a rising senior, who has received numerous offers from various DI and DII schools, will pace the Indians' offense this season.
"He is a great leader a great player a real talented player who works hard and is just a great kid," said Hockman. Defensive end Henry Famurewa is a playmaker who will be leading the defense.
The biggest obstacle this season for the Indians will be finding sustaining excellence deep into the season and into the playoffs.
"That is something that we have looked at very closely over the past couple of years," said Hockman. "We have to go and make our own breaks and win those close games. Every loss that we have had has been down to the wire and we just have to make some plays at the end. I think that if we just play fundamental football and just sticking to what we know. I don't think we need to change anything we just need to continue to work hard and we will win."
The preseason No. 4 Indians will kick off the season at the Georgia Dome Aug. 25 against the Brookwood Broncos.
Class AAAAAA Preseason Top 10
1. Norcross
2. Colquitt County
3. North Gwinnett
4. McEachern
5. Lowndes
6. North Cobb
7. Mill Creek
8. Walton
9. Lovejoy
10. Peachtree Ridge