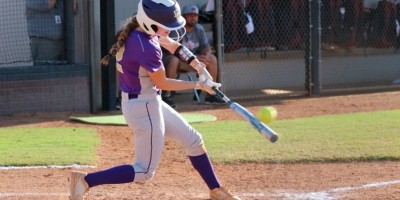 PHOTO BY: Barbara Randall Lecuona, East Coweta Facebook Page
East Coweta scored five runs in the third inning helped by a 3-run home run from Kaliyah Matthews as it overwhelmed Campbell 12-1 on Tuesday. The Indians used a variety of players in the victory to move to 13-0 on the season.
"It was a region game and we felt it was a game we could play some different folks," said head coach Franklin DeLoach after the game. "We basically played everybody and got some good reps from some different girls. Couple of different pitchers and catchers. We felt pretty comfortable throughout the game and we were able to let some girls show you what they can do."
East Coweta, ranked No. 1 in the state in Class AAAAAAA and No. 1 in the nation according to MaxPreps, gained a 6-0 lead through the first two innings after allowing a single run on a miscommunication in the first inning. After that, it was all East Coweta.
Aniston Wright pitched the first three innings for the Indians and allowed the one run. She struck out four batters and gave up three hits.
"Wright did well," DeLoach said. "It's unfortunate that we gave up the run. We kind of dropped the ball, literally, and let a ball get by us on a miscommunication on a pitch call and that was able to advance a runner. They bunted the runner home to score the first run of the game."
Jaliyah Holmes relieved Wright to pitch the final two innings. She finished the game with six strikeouts. East Coweta put on an offensive exhibition in the third inning which began with a single by Macie Wiggins. Lilly Agan doubled at the next at-bat to get on base. Campbell walked Eliza Kuhne and then Kylie Ferguson singled to put two runners on base before Matthews' home run.
"It was one of those games where it wasn't overly exciting," DeLoach said. "It was a region game. You have to do them. But, it was a productive day for us at the park."
See the rest of the scores below.
Softball
Alpharetta 15, Northview 0
Baconton Charter 14, Pataula Charter 0
Blessed Trinity 15, West Hall 0
Cartersville 8, Cedartown 3
Chapel Hill 10, Troup County 2
Crawford County 7, Schley County 2
Dunwoody 10, Chattahoochee 1
Eagle's Landing Christian 4, Academy For Classical Education 3
East Coweta 12, Campbell 1
Gilmer 15, Southeast Whitfield 3
Gordon Lee 8, Bowdon 0
Greenbrier 7, Alcovy 4
Harrison 15, Osborne 0
Heritage-Catoosa 1, LaFayette 0
Jefferson County 6, Burke County 4
LaGrange 2, Central-Carroll 1
Lakeview-Fort Oglethorpe 5, Murray County 1
Lambert 12, Milton 4
Lanier County 13, Turner County 0
Marion County 5, Taylor County 0
Marist 7, Buford 6
Mary Persons 7, Howard 3
Miller County 19, Chattahoochee County 3
Monroe Area 9, Winder-Barrow 7
Mt. Zion-Jonesboro 1, Christian Heritage 0
Newnan 8, McIntosh 0
North Atlanta 7, Centennial 4
Oglethorpe County 10, Clarke Central 7
Perry 3, West Laurens 0
Prince Avenue 8, Hebron Christian 5
River Ridge 9, Dalton 0
Seminole County 12, Pelham 9
Stratford Academy 4, Mt. de Sales 3
Tattnall Square 15, First Presbyterian 0
Terrell County 16, Calhoun County 1
Thomson 11, Grovetown 3
Towns County 18, Providence Christian 0
Trion 16, Darlington 1
Upson-Lee 3, Spalding 1
Veterans 13, Warner Robins 1
Washington-Wilkes 16, Greene County 0
Wilcox County 9, Clinch County 4
Woodland-Stockbridge 0, Whitewater 0
Volleyball
Arabia Mountain 2, Southwest DeKalb 0
Archer 2, Athens Christian 0
Athens Christian 2, Berkmar 0
Brooks County 3, Mitchell County 0
Callaway 2, Spencer 0
Central-Talbotton 2, Northeast-Macon 0
Chamblee 2, Arabia Mountain 0
Chattooga 3, Gordon Central 0
Clarkston 2, Columbia 0
Clarkston 2, Cross Keys 0
Douglas County 2, New Manchester 0
Douglas County 2, Tri-Cities 0
Eastside 2, Hampton 0
Eastside 2, Luella 0
Eastside 2, Salem 0
Fellowship Christian 2, Mt. Pisgah Christian 1
First Presbyterian 2, Jackson 0
Gordon Lee 3, Dade County 0
Habersham Central 2, Gainesville 1
Hart County 2, East Jackson 1
Hart County 2, Franklin County 0
Jackson County 2, Griffin 0
Jackson County 2, Jefferson 0
Jackson County 2, Morgan County 1
Kell 2, Villa Rica 0
Kell 2, Woodland-Cartersville 0
LaFayette 2, Dade County 0
Mt. Bethel Christian Academy at North Cobb Christian, late
Newnan 3, Wheeler 0
Shaw 2, Carver-Columbus 0
Shaw 2, Hardaway 0
Villa Rica 2, Woodland-Cartersville 1
Walker 3, Darlington 0