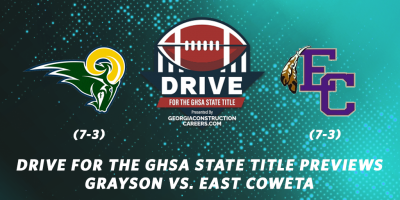 The eleventh televised game featured in the 'Drive for the GHSA State Title' series is a blockbuster 7A first round matchup between East Coweta (7-3) and Grayson (7-3) that will be broadcast on PeachtreeTV/CBS46 at 8 p.m. this Friday.
The teams have met just three times and Grayson holds the 3-0 advantage in the series. The teams first met in 2004 when Grayson won 31-13. The next season, the Rams edged East Coweta 24-21. In 2019, Grayson sent East Coweta home in the second round of the 7A playoffs with a 42-21 victory.
This year, it's wide open.
East Coweta wants a chance to advance past the second round for the first time since a semifinal loss in 2002. Grayson – the defending champions – doesn't want to lose in the first round one season removed from a state title.
Both teams are 7-3 and neither won their region. East Coweta went 2-2 through Region 2-7A with wins over Campbell (26-6) and Newnan (30-27) and losses to Pebblebrook (38-21) and McEachern (46-24). The Indians lost a pre-region game against top-ranked Collins Hill 34-0. Grayson lost two pre-region games – to Creekside 19-14 in the season-opener and to Mill Creek 28-14 on Sept. 24. The Rams went 3-1 through Region 4-7A with wins over South Gwinnett (17-14), Parkview (28-21) and Newton (15-7) and a loss to Brookwood (35-14).
East Coweta quarterback Daniel Shoch is 142-of-230 passing for 1,731 yards and 13 touchdowns to lead an offense that averages 175 passing and 109 rushing yards per game. His favorite targets are Amariyon Moss, who has 44 receptions for 389 yards and three touchdowns, Fate Simmons (4 TDs),  Brady Tillman (251 yards receiving), Colt Cortez (3 TDs) and Dionte Jones (2 TDs). On the ground Shoch (6 TDs), DJ Reid (120 carries, 431 yards, 6 TDs) and Trey Bowles (77 carries, 375, 5 TDs) lead the way.
Grayson prefers to run the ball and averages nearly 200 rushing yards to 66 passing yards per game led by quarterback Jojo Stone who is 48-of-84 passing for 445 yards and two touchdowns. Rayne Frye is 32-of-62 passing for 221 yards and a touchdown.
Top receivers are John Cineas (2 TDs), Mason Humphrey (1 TD) and Bin-wahad (1 TD). Joe Taylor leads the rushing attack with 141 carries for 721 yards and six touchdowns. Stone has 98 carries for 586 yards and six touchdowns. Dylan Elder has taken 79 carries for 577 yards and six touchdowns. Derrell Farrar has been efficient with five carries for 11 yards and three touchdowns.