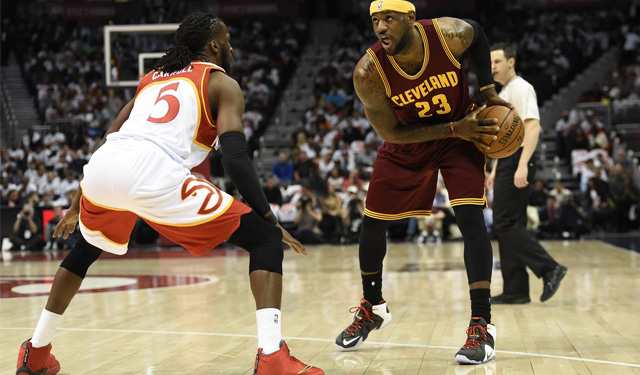 Photo By (USATSI)
Atlanta Hawks (60-22) vs. Cleveland Cavaliers (53-29)
One team has been playing its best basketball of the season, while the other keeps finding ways to win. Atlanta's magical season has seen the team win a franchise record 60 games, set a franchise record with 19-straight wins, complete an undefeated month of January, send four All-Stars and its head coach to the All-Star game and sit on the brink of its first NBA Finals appearance since 1960-61. With all that the Hawks have accomplished, they still haven't accomplished their main goal of winning an NBA title. The red-hot Cleveland Cavaliers led by the best player on the planet LeBron James, pose the ultimate test.
The Cavs are a far cry from their pedestrian 19-20 start; at that same point in the season, the Hawks were flying high at 31-8. LeBron got healthy and Cleveland made some trades and finished the season 34-9 while Atlanta came back down to earth at 29-13. The Hawks battled injuries down the stretch but are as healthy as they are going to get as they enter the conference finals. Kevin Love was lost for the season after hurting his shoulder in the first round against the Boston Celtics, but Cleveland has not missed a beat.
The Cavaliers thumped Atlanta in their first meeting back on November 15, 127-94, but the Hawks responded with wins of 29, eight and nine points to take the regular season series three games to one. The Cavs however, have changed considerably since the two teams last met on March 6. The aforementioned Kevin Love has been lost to injury meaning Tristan Thompson has taken a more prominent role. Thompson will be a handful for the Hawks as he averages 3.9 offensive rebounds per game, the most in the NBA playoffs. The non-stop energy player has averaged 9.4 rebounds and gives Cleveland numerous second-chance opportunities.
Mid-season acquisitions of Timofey Mozgov, Iman Shumpert and J.R. Smith have given the Cavs a much needed boost defensively and a toughness the team lacked before. Cleveland had no true rim-protector before the trade, but with Mozgov anchoring the paint buckets will not come easy for Al Horford and Paul Millsap. Shumpert has taken the role of Atlanta's DeMarre Carroll as a lockdown defender and three-point shooter while the mercurial J.R. Smith has found a home and kept his antics to a minimum.
Star guard Kyrie Irving has dealt with a bum ankle and knee, but says he will be able to play in Game 1. Controlling Irving and LeBron James will be Atlanta's main focus as they will try and make Cleveland's role players beat them. DeMarre Carroll had success in his last matchup with LeBron as he hounded him into nine turnovers and just 18 points. As it has been all season, it will be a team effort to get stops on defense and score on offense.
Winning Recipe
Paul Millsap and Al Horford found great success against Cleveland during the regular season and will need to continue their string of good games. Horford averaged 17 points, five rebounds and four assists on 63 percent shooting in three games vs the Cavs while Millsap went for 18 points and eight rebounds on average in four games. Kyle Korver will be an X-factor in the series if he can get hot. He hit just 12-for-42 (28%) from deep against Washington including four-straight games with six points or less and a 0-7 night from three in Game 6. Korver averaged 7.8 points against the Cavs during the regular season as Cleveland focused on running the sniper off the three-point line. Change of pace guard Dennis Schroder averaged over 10 points and six assists against Cleveland and could challenge Irving's legs if he is not 100 percent.
The winner of the rebounding battle has won each game during the two teams' four games this season. Atlanta will need to be weary of the three-ball. The Cavaliers had games of 19, 8, 13 and 13 three-pointers made against the Hawks highlighted by a perfect 9-for-9 in the first quarter back in November.
If the Hawks can continue to play unselfishly and win the team battles instead of the individual battles, they will have a chance to bring home their first title to Atlanta.