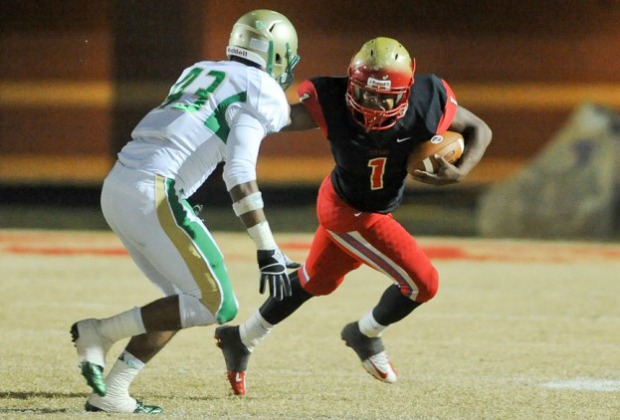 Kawon Bryant, the tailback from North Oconee, has been punishing defenses for the past two years and is raring to go this season. After six games in his freshman season he was named North Oconee's starting running back and he was used often in their campaign to the school's first region title. He rushed for 1,026 yards, averaging 9.1 yards per carry and also scored 15 touchdowns that helped lead the Titans to a playoff berth in 2011. His phenomenal freshman season earned him an honorable mention for MaxPreps 2011 freshman all-American team.
Kawon opened the 2012 season with a high-ankle sprain, missing two of the team's first four games and posting numbers that were not relative to his freshman season. He silenced any doubt by accumulating 192 total yards and three touchdowns in their game against Morgan County. Kawon was instrumental in North Oconee winning its second straight region title. Once again Kawon was named honorable mention AAA All-State this time by AJC and GSWA.
His impressive start has not gone unnoticed. Kawon has been hearing from a plethora of colleges for the past two years, and he has attended camps at Clemson, Georgia and Florida State. Right now, he insists he is focused on his junior season and is putting recruitment on the backburner until after the season is over.
Kawon is looking forward to recruitment and hopes to continue to play football at any level for as long as he can. He is also aware of the percent of players who eventually play in the NFL, and is preparing himself for success once his time with football is over. This should not be an issue for him because his work ethic is as remarkable off the field as his work on the field. He has been training at Crossfit Oconee since middle school and might take the route of a personal trainer as time goes on.
"I can see myself working in the sports field or maybe being a trainer," Kawon said. "I love to train and to help others do the same, so I think that's something I'd like to do in the future."
He has been a star on and off the field and has helped his community greatly. Over the summer he works with Crossfit Oconee's youth program to help kids get in shape as well as promote healthy lifestyles and habits for them. He serves at local food pantries and a food for the needy program with his church, The Connecting Point Church in Oconee County, as often as his schedule permits him to.
In his first two seasons he has accumulated more than 2,200 rushing yards to go along with 31 touchdowns. He needs only 44 yards to be North Oconee's all-time leading rusher, and will likely collect county and region records over the next two years.