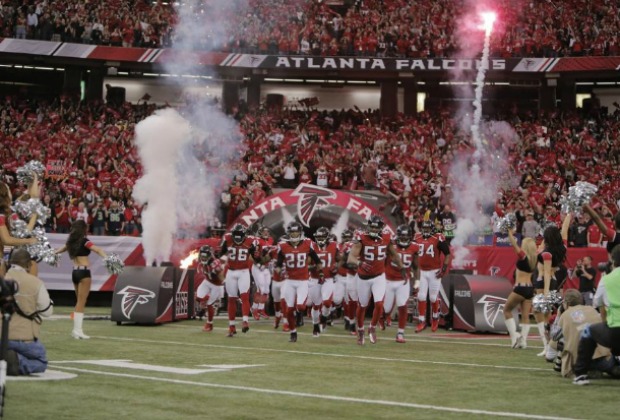 Jimmy Cribb/Atlantafalcons.com
Going 13-3 in the regular season and earning a No. 1 seed should earn a NFL team some credibility, right?
That is not the case for the Falcons because the NFL experts fell like their season will come to an end against the San Francisco 49ers in the NFC Championship game on Sunday, despite the game being at the Georgia Dome.
As soon as the Falcons defeated the Seattle Seahawks last week, they were listed as a 3.5 underdog according to Vegas. It is currently up to four points and could move up more by kickoff.
Nearly all the experts at ESPN fell the same way as Vegas. All 12 experts except Keyshawn Johnson and Chris Mortensen feel the 49ers will defeat the Falcons. However, Pat Yasinskas who is the NFC South blogger for ESPN.com says the Falcons will win 31-27 and thinks that Matt Ryan will have a huge game.
Over at CBS Sports, two out of the eight experts picked the Falcons to take care of business on Sunday. Those two are Will Brinson and senior writer Pete Prisco who has covered the Falcons all season long.
Mike Silver, Jason Cole and Les Carpenter of Yahoo Sports all think the 49ers will have no problems against Atlanta. Silver and Cole both picked Atlanta to beat Seattle last week.
The writers at NFL.com, which include Kareem Copeland, Dan Hanzus, Gregg Rosenthal, Marc Sessler and Rhino, picked the team from the west coast. However, the crew from NFL Network's "First on the Field" was split down the middle. Melissa Stark and LaDanian Tomlison picked the 49ers while Brian Billick and Sterling Sharpe chose the Falcons.
But the most interesting (and most fun) expert pick had to come from the guys at EA Sports. Along with EA Sports and ESPN.com, they have simulated all the NFL regular season games as well as the postseason games via "Madden NFL 13". When they did their Falcons-49ers simulation, they had San Francisco on top 37-31 in overtime. The Falcons would score 18 unanswered points in the fourth quarter, but Frank Gore would score the go-ahead touchdown when it got to free football.
This will be the third time in team history the Falcons will play in the NFC Championship game. They had a 1-1 record in conference championship play and this the first time they will have the game in Atlanta.