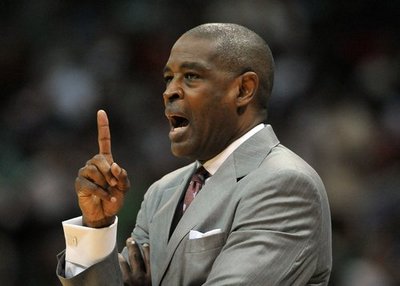 Hyosub Shin/AJC
Vanderbilt C Festus Ezeli, Syracuse C Fab Melo, Georgetown F Henry Sims and Iona G Scott Machado spent Saturday morning displaying their skills for the Hawks in the most anticipated of the draft workouts. The Hawks have a serious need at center with only one true center on the roster in Zaza Pachulia, so there was a lot of interest and intrigue in Saturday's workout which featured two of the top center prospects in the 2012 NBA Draft.
Fab Melo injured his left elbow in a collision with Ezeli during a drill and was taken to a doctor for x-rays. It is not believed to be serious, but was disappointing for Melo who was looking to impress up against another top center. In the time he was on the court, Melo showed off his athletic ability and Larry Drew was happy with what he saw in terms of work ethic and footwork.
"[Melo] has a really good work ethic," said Drew. "He does a good job moving block to block. He'll have to get stronger, but he has the chance to have a good NBA career."
Ezeli came in and was impressive with his physical stature and strength in the post. His defensive presence down low is noticeable immediately as he commands the paint and is strong enough to deal with even the most physical of centers. His lateral movement is good and he will have to get used to consistently guarding pick-and-rolls, a staple of the pro game not seen as much in college. Offensively, Festus is raw and only really possesses one strong offensive move and will need to improve as a mid-range shooter.
"He's a stud," said Drew. "Big, strong kid. Very powerful down low. Very intriguing because of size and his raw-ness, he's a very powerful kid."
Drew feels Ezeli can transition into the NBA game defensively and thinks he moves well enough to get out on pick-and-rolls.
"He moves pretty well," said Drew. "He's going to see more pick-and-roll than he's ever seen in his life, but the volume of pick-and-rolls in the NBA these guys are just going to have to get used to it and have to be prepared to make adjustments. He looks mobile enough to get out and defend the screen or even trap it."
About his offensive game, assistant GM Dave Pendergraft discussed how raw Ezeli is, but that there are some strengths he possesses that can be developed.
"[Ezeli] has an unbelievable right-hand half hook," said Pendergraft.  "That's his go-to move, and that's NBA-like. He shoots that as well as any NBA 6-foot-10 player. If he gets to the sweet spot on the court and can go over that shoulder it's good. Now outside of that he is somewhat limited. I think maybe in time he can develop a 15-footer. Probably needs to get a counter to that right-hand hook first, but he's not as rough around the edges as he was as he matriculated through his college career."
Not to be over-shadowed by the tall trees, Machado came in looking to prove that he ought to be seriously considered as a back-up to Jeff Teague. Machado is a pure point guard that looks to pass-first. He looks, physically, like Russell Westbrook, but Machado is a great passer and looks to involve everyone else before looking for his own shot. Pendergraft raved about Machado and heaped praise on top of the Iona guard.
"He is the best at getting the rebound, turning, surveying the court and passing ahead," said Pendergraft. "He's as good as anyone collegiately I can remember ever seeing. … He's good in the half court, but he's great in the full court. He's one of the best, if not the best passer in college basketball."
Machado talked about how his game translates into the NBA and fits with the Hawks, and feels that he'll be even better in the NBA than he was in college.
"I think my game is better in the NBA actually," said Machado. "I feel like I'm a great passer and know how to run the team. I'm a good leader and can be a play-maker…Jeff Teague is an excellent point guard and I feel like whenever he needed a break I could come on the court and without losing a beat come on the court and do the same things he does."
Festus Ezeli and Scott Machado would each fill a need for the Hawks at 23, at back-up center or point guard, and would provide some much needed youthful energy to what was tied for the oldest squad in the NBA last season (Spurs). Ezeli measured in very well and showed off his size and strength in the post against the weaker Melo and Sims. Machado did not have the same competition at his position going up against a pair of local players, but he confirmed his great skill set in person that he showed in his career at Iona.
Both players also can be contributors without needing to score, something that is important to the Hawks who already have a number of players that are scorers. Machado would give the Hawks another point guard off the bench that would be able to run the offense and facilitate the ball to others. Ezeli would be an impact player defensively first and could develop into a better offensive player.
Guys like Joe Johnson, Josh Smith and Al Horford are all at their best when they score the ball, so adding more players to the bench that can come in and be effective without needing to score would balance out the Hawks' bench that features a number of scorers like Willie Green and Jannero Pargo. Ezeli would also be an upgrade from the recent rotation of old bench centers like Jason Collins and Eric Dampier. Machado would give them a passing guard off the bench, something missing last year with Hinrich, Pargo and Green.
The top five guys on the Hawks' radar right now (that have worked out) for that 23rd spot seem to be Ezeli, Machado, Jeffery Taylor, Draymond Green and Will Barton. Each provides a different element, but Ezeli, Machado and Taylor are effective without scoring so they seem to be the best fits thus far in the process.
Sunday the Hawks will work out Marquette F Jae Crowder and Houston F Jonathan Simmons. St. John's F Moe Harkless, who some have projected to the Hawks at 23, pulled out of the workout.