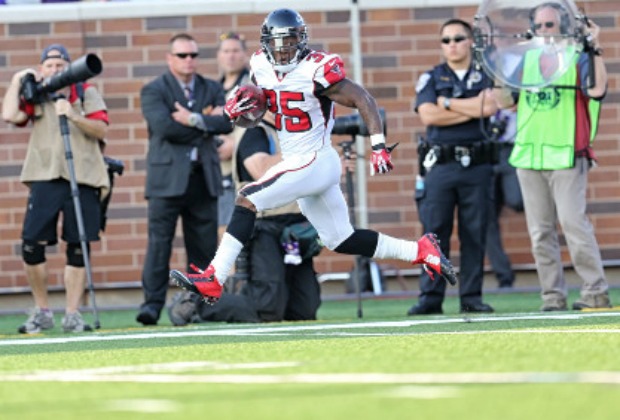 At 2-6, the Atlanta Falcons do not have time for moral victories. Even if they did, last weekend's brutal, last-second 22-21 loss to Detroit at London's Wembley Stadium would not have been one. It was, however, a showdown that went down to last second and featured an opening half in which Atlanta dominated a good team for 30 consecutive minutes.
This loss may sting the most based on having failed to put away a 21-0 halftime lead, an almost hard-to-believe final sequence of plays and the fact that the Falcons now have a bye week to stew on the heartache. But it's not the kind of setback to which they are unaccustomed. It's not like head coach Mike Smith's squad is that far from being 4-3, either. Atlanta has led in the fourth quarter during three of its losses, at Minnesota and at New York prior to the latest near-miss.
"We're a 2-6 football team, but that's not a 2-6 locker room," Smith stressed to the media at Flowery Branch on Monday. "That is a quality group of men in that locker room and I can assure you this, there's no quit in them. We haven't gotten the wins that we anticipated we would get, but we are working our tails off and we are very accountable. I think when you have that you've got a good group of guys. We will feel so much better when we turn this thing around."
The Falcons are by no means hopeless. They have not played themselves out of contention and they have not been thoroughly outplayed by any opponent aside from the third quarter at Cincinnati and the first half at Baltimore. What they have done is dug themselves into a hole. Now the question is: how will they get out?
ONWARDS AND UPWARDS …
Owner Arthur Blank and general manager Thomas Dimitroff have never been particularly fond of midseason shakeups. That goes for both coaches and players. Smith is not going anywhere at the moment and neither is anyone else. If change comes during the season, it will come from within. Many have called for big-play machine Antone Smith to get more touches, which would make sense since he can make defenders miss by himself and that is exactly what the team needs since it is working with an offensive line destroyed by injuries. Defensively, the Falcons blitz less often than almost anyone else in the NFL. A respectable secondary deserves to see what it can do in one-on-one coverage amidst a steadier diet of blitz packages. Regardless, though, the bottom is line is the Falcons must improve at the individual level.
"I've already started talking to the young running backs," Steven Jackson said in his Monday interview. "When you're in a 2-6 position going into the bye, you've got to start working on your craft. At the end of the day we're all professionals and you work on the details of your position."
Offensive lineman Jon Asamoah also emphasized the importance of getting back to the basics and doing the little things to take steps toward big improvement. When asked about the loss to Detroit, tight end Bear Pascoe suggested the team should "let it burn" and use it as motivation. Getting healthy would also help, an aspect wide receiver Julio Jones mentioned when he met with the media and something that should be possible thanks to the upcoming bye week.
Harry Douglas missed four games with a foot injury but returned in London and caught three passes for 42 yards. He appeared to be favoring his foot after making a critical reception late in the fourth quarter, but the bye week should have him back at 100 percent. Jonathan Babineaux was listed as questionable for the game and ended up being inactive. The veteran defensive tackle is likely to be good to go for Week 10. Jones, Smith and guard Justin Blalock are banged up. Who isn't after eight games of an NFL season?
THE 'P' WORD …
"Playoffs? You kidding me? Playoffs?" Not unlike former Indianapolis Colts' head coach Jim Mora, the Falcons are not thinking about playoffs. If any team has to take things one game at a time, it's one that is 2-6 after losing five games in a row. Just as Atlanta can't have the postseason on its mind right now, it also cannot think about positioning itself for one of the top picks in the 2015 NFL Draft. Amazingly enough, the NFC South race is still way too close and there are way too many weeks remaining for the Falcons to waive the proverbial white flag.
Despite being four games below .500, Atlanta is just 1.5 games back of 3-4 New Orleans and essentially the same margin behind 3-4-1 Carolina in the division. It is the only one of eight in which the current leader has a losing record. No other team in first place is worse than 5-3 (Indianapolis in the AFC South) and the other six leaders have no more than two losses. A division thought to be one of the best heading into this season is unquestionably the NFL's worst. The four representatives are a combined 9-20-1 and a horrendous 5-16-1 against opponents outside the NFC South.
Even better news for the Falcons is that they are 2-0 in the division, so for the time being they are in good shape if tiebreakers eventually come into play. Atlanta survived a Week 1 overtime thriller with New Orleans 37-34 before embarrassing Tampa Bay 56-14 in Week 3. After a bye week that comes at an ideal time right in the middle of the season at the end of a strenuous and unfamiliar week, the Falcons visit Tampa Bay and Carolina. Should they win both of those contests, they would be 4-6 overall, 4-0 in the division and unquestionably in the thick of the NFC South race.
"We've got to find a way to get better over the course of the bye week and I think everybody needs to look in the mirror and self critique," Matt Ryan said in his postgame press conference. "When we get back to work, (we need to) have a great mindset and a great sense of focus. We've got to be the first one to [make the playoffs after starting 2-6]. I think that's got to be the mindset that we have to have."