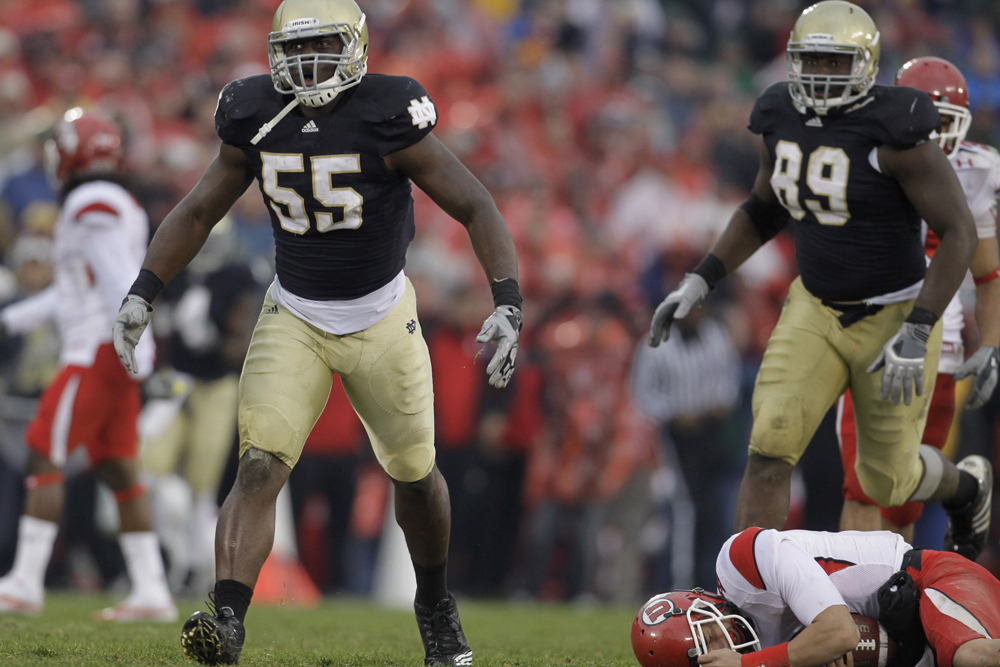 AtlantaFalcons.com
Falcons had two picks in the fourth round of the 2014 NFL Draft and with their second pick, they grab linebacker Prince Shembo from Notre Dame. In the fifth round, they go for secondary depth to pick up Ricardo Allen out of Purdue.
Shebo comes to the Falcons after starting 34 of 51 games at Notre Dame. While in South Bend he picked up 145 tackles (24.5 for a loss), 35 quarterback pressures, 19.5 sacks, two forced fumbles, and a fumble recovery for the Irish.
However while at Notre Dame, Shembo was accused of sexual assault by a female student at nearby St. Mary's College. Shembo says he's been ready to put that story in the past for a while.
"It was an unfortunate event," Shembo said in a conference call. "My name is pretty much cleared and its behind me now. I just want to focus on playing football for the Falcons."
This is a story that picked up attention, when the young girl committed suicide a few days after filing the complaint to authorities. That is something that Shembo says he feels sadness for her death.
"I have a lot of remorse for the girl," Shembo said. "Anytime someone experiences death or dies its always very sad."
Shembo says that he has talked with the Falcons about the incident and was very forthright with them about the alleged incident. Now he's ready to play for the team and will have a chance to join them next weekend for the rookie mini-camp.
His college coach Brian Kelly once told reporters that the outside linebacker one to screw things up for opposing teams, according to the Chicago Tribune.
"He plays the game with that chip where (he is) going to do whatever's necessary to be disruptive," Kelly said. "You almost have to take his helmet away from him."
Those quotes come from David Haugh of the Chicago Tribune.
Shembo's fit into the Falcons defense seems pretty seemless, with the transition to the 3-4 defense. He's right now one of the only true outside linebackers on the depth chart, with many players shifting off the defensive line out to the second level of the defense.
As For Allen:
He comes to the Falcons after playing four seasons at Purdue as a cornerback. During his career, he started in 48 games in the Boilermakers secondary.
He holds onto on career interceptions returned for a touchdown record at Purdue, with four. Allen also has 250 career tackles (14.5 for a loss), 13 interceptions, 22 passes defended, and three career sacks.
Allen says that he's ready to join this young secondary alongside cornerback's Desmond Trufant and Robert Alford.
"Last year I thought those two were some of the best corners in the draft," Allen said via conference call. "They went out this year and played really hard. It's an honor to suit up and play with those guys."
Allen was also a soccer player while in high school, playing goalkeeper for Mainland high school in Daytona Beach, Florida. Skills from that football, have suited him to play in this football.
"Eye awareness, eye discipline, hand/eye coordination and make plays with the ball," Allen said.
Most college football fans think of Big Ten players as slow, big, strong and not as athletic as other conferences. Allen believes that stigma isn't true.
"You don't get as many passes in the Big Ten because most people do run the ball," Allen said. "But once you do, you get pro style offenses. You get ready for the NFL. You play aggressive in the Big Ten, you have to make tackles, you to run down on special teams, you have to go up against big wide receivers, and you have to be able to get off blocks."
Now that Allen is a member of the Falcons, he's joining Alford and Trufant. Plus, he'll also compete with Robert McClain and Javier Arenas for playing time.