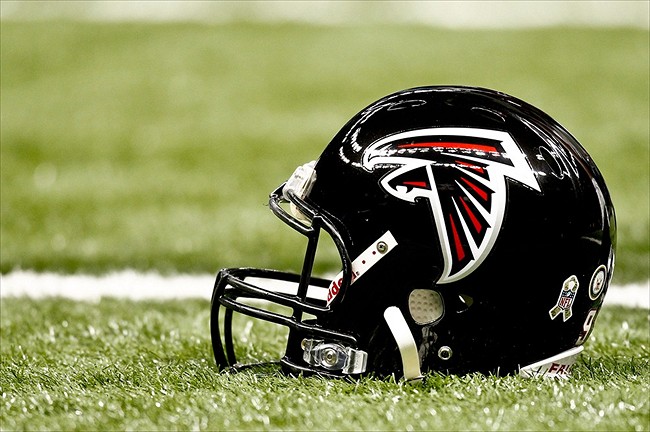 Photo by AtlantaFalcons.com
Flowery Branch, GA – The Atlanta Falcons today announced that they have hired Richard Smith as defensive coordinator, Kyle Shanahan as offensive coordinator,  Raheem Morris assistant head coach/defensive passing game coordinator, Bobby Turner as running backs coach, and Mike LaFleur as offensive assistant. The club has also retained Special Teams Coordinator Keith Armstrong, Defensive Line coach Bryan Cox, Tight Ends Coach Wade Harman, Wide Receivers Coach Terry Robiskie, and Assistant Special Teams Coach Eric Sutulovich.
Shanahan brings seven years of NFL experience as an offensive coordinator to Atlanta, including serving as the offensive coordinator for the Cleveland Browns in 2014. His offense averaged 324.6 yards per game, including 108.0 yards per game on the ground, last season. Under Shanahan, RB Terrance West and RB Isaiah Crowell combined for 1,280 yards on 319 carries, good for an average of four yards per carry. Additionally, fourth-year WR Andrew Hawkins posted career-highs in receptions (63) and yards (824) in his first season in Shanahan's offense.
Prior to landing in Cleveland, Shanahan spent four seasons as the offensive coordinator for the Washington Redskins. In 2012, Kyle helped the Redskins finish ninth in the NFL in total offense (369.7) and  fifth in rushing yards (135.3), while WR Pierre Garcon set a franchise record and led the League with 113 receptions. Under Shanahan, RB Alfred Morris rushed for more than 1,200 yards in each of his first two seasons, including a franchise record 1,613 yards as a rookie in 2012. Morris posted 2,888 rushing yards in two seasons in Shanahan's offense, which was the second highest total in the NFL during that span behind RB Adrian Peterson (3,363).
Before joining his father, Mike Shanahan, in Washington, he spent four seasons (2006-09) with the Houston Texans, including the final two as offensive coordinator. In Shanahan's offense, WR Andre Johnson led the NFL in receiving yards in both 2008 (1,575) and 2009 (1,569). Johnson also led the League in receptions in 2008 (115). He spent his first season working with the Texans wide receivers (2006), then coached the quarterbacks (2007) before being promoted to offensive coordinator in 2008.
Smith spent the last four seasons as the linebackers coach for the Denver Broncos. During that span, the Broncos ranked third in rushing defense (99.7), fourth in third-down defense (34.7), seventh in total defense (327.4), eleventh in passing defense (227.7), and fourth in scoring defense (22.4). He brings more than a quarter century of NFL coaching experience to Atlanta after coaching for the Broncos, Panthers, Texans, Dolphins, Lions, and Oilers. Smith has coached nine different players to 12 Pro Bowls during his coaching career, including three appearances by LB Von Miller.
Prior to arriving in Denver, Smith spent two seasons in Carolina as the linebackers coach (2009-10). While in Carolina, he coached for a top 10 defense that tied for the third-most takeaways (66) in the NFL over that span. Under his guidance, LB Jon Beason earned Pro Bowl honors in 2009. Smith served as the defensive coordinator for the Houston Texans from 2006-08, where he helped produce two Pro Bowl players; LB DeMeco Ryans made the Pro Bowl in 2007 and DE Mario Williams did the same in 2008. Both players were also named Associated Press second team All-Pros in 2007.
In 2013, Smith coached a group anchored by LB Danny Trevathan, who led the team with 124 tackles (84). He helped coach the NFL's second-ranked defense in 2012, while helping Miller become one of the best defensive players in football. Miller finished as runner-up NFL Defensive Player of the Year, earned first-team AP All-Pro honors and became the first player in Broncos history to earn Pro Bowl selections in each of his first two seasons. Under Smith's tutelage, Miller set a team record with 18.5 sacks in 2012, while finishing the season ranked in the top five in sacks, knockdowns, hurries, tackles for a loss, and forced fumbles.
Morris brings 13 years of NFL coaching experience to Atlanta after spending the last three seasons as the defensive backs coach for the Washington Redskins. In 2012, he helped Washington's defense finish tied for fifth in the NFL with 31 takeaways. The Redskins scored four defensive touchdowns in 2012, including two from the secondary. Morris oversaw a unit that tied a League high with 94 passes defensed and ranked fifth in the NFC with a 3.3 interception rate.
Prior to arriving in Washington, Morris spent three seasons as the head coach of the Tampa Bay Buccaneers from 2009-2011. He was the League's youngest head coach in 2009. In 2010, the Buccaneers made their best turnaround in franchise history, finishing with a 10-6 record after going 3-13 in 2009. He spent one year as the defensive coordinator at Kansas State in 2006 prior to joining the Buccaneers.
Morris made his NFL coaching debut with Tampa Bay as a defensive quality control coach in 2002, when the club won Super Bowl XXXVII. The Buccaneers defense allowed an NFL low 12.3 points per game, the third best scoring defense since 2000. He served as a defensive assistant with the Bucs in 2003 and as assistant defensive backs coach from 2004-05.
Bobby Turner joins the Falcons staff as running backs coach after holding the same position with the Washington Redskins for the last five seasons. Under Turner's tutelage, RB Alfred Morris set the Redskins single-season rushing record with 1,613 yards on 335 carries while adding 13 touchdowns in 2013. His 1,613 rushing yards were the third most in NFL history by a rookie behind Eric Dickerson (1,808) and George Rogers (1,674).
Prior to joining Washington, Turner served as the running backs coach for the Denver Broncos from 1995-2009 where he worked with RB Terrell Davis, who was named AP Offensive Player of the Year in 1996 and 1998 and helped lead the Broncos to back-to-back Super Bowl championships. Before making the jump to the NFL, Turner was the head coach, offensive coordinator and running backs coach at Purdue (1991-94). Before that, Turner helped Ohio State post the top rushing attack in the Big 10 as the Buckeyes running backs coach from 1989-1990.
Mike LaFleur joins the Falcons as an offensive assistant after spending the 2014 season as an offensive coaching intern with the Cleveland Browns. Prior to joining the Browns, LaFleur was the offensive coordinator and quarterbacks and wide receivers coach at Davidson College in 2013. Prior to joining Davidson, LaFleur was hired by Saint Joseph's College, a Division II school in Rensselaer, Indiana in 2010. LaFleur served as quarterbacks coach in 2010 and was promoted to offensive coordinator in 2011. He also served as the school's recruiting coordinator.
With LaFleur calling plays, Saint Joseph's enjoyed one of its best seasons, improving scoring from 18 points per game to 28 while setting a school record for passing touchdowns, which resulted in the program's first winning season in seven years. He began his coaching career at his alma mater, Elmhurst College, as an offensive assistant working with quarterbacks. LaFleur was a team captain and three-time letterwinner as a quarterback and safety at Elmhurst, where he earned a bachelor's degree in physical education in December 2009.
Armstrong returns to the Falcons for an eighth season as the club's special teams coordinator. His units have been among the most successful and consistent in the NFL during his tenure. Under Armstrong, the Falcons coverage units have allowed only 7.7 yards per punt return, which ranks third in the NFL, and 22.4 yards per kickoff return over the last eight seasons. Additionally, Atlanta's 24.3 yards per kickoff return ranks fourth in the NFL while its 9.6 yards per punt return rank 12th. In 2014, WR Devin Hester earned his fourth Pro Bowl selection after setting an NFL record with his 20th career return touchdown and ranking among the League leaders in punt return average (13.3) and kickoff return average (25.1).
Cox returns to the Falcons for his second season after two years with the Tampa Bay Buccaneers where he coached the defensive front seven and served as the pass rush specialist. Cox helped several players post career bests, including DT Gerald McCoy who totaled 14 sacks, 36 quarterback hits, and 24 tackles for loss over the last two seasons while earning his first Pro Bowl selection in 2012. Last season, the Falcons defensive line was responsible for 22 tackles for loss and six sacks.
Harman returns to the Falcons for his second season as the team's tight ends coach after spending the 2014 season as the assistant offensive line coach. He helped tutor an improved offensive line that helped QB Matt Ryan throw for more than 4,000 yards for a fourth consecutive season. Harman joined the Falcons after spending 15 seasons as a member of the Baltimore Ravens coaching staff, including his last six as the club's tight ends coach. He served as the Ravens tight ends coach and assistant offensive line coach from 1999-07 after spending two seasons as a coaching assistant with the Minnesota Vikings.
Robiskie returns to the Falcons for an eighth season as the team's wide receivers coach. Robiskie's experience in the NFL spans over three decades, and he is one of the most respected wide receiver coaches in the League. Under his guidance in 2015, WR Julio Jones earned his second trip to the Pro Bowl after setting franchise records for receiving yards in a season (1,593) and receiving yards in a single game (259). Jones led the NFC with 104 receptions and 1,593 yards while finishing second in the NFL with 106.2 yards per game and fourth with 6.9 receptions per game.  Robiskie has also made an impact on WR Roddy White, who is the franchise leader in receptions (765), receiving yards (10,357), and touchdowns (62).
Sutulovich returns to the Falcons for a seventh season as the club's assistant special teams coach. He will continue to work with Special Teams Coordinator Keith Armstrong to make sure the Falcons special teams units remain among the very best in the NFL. Last season, P Matt Bosher punted 67 times for 3063 yards with 27 kicks downed inside the 20-yard line and just four touchbacks. His 40.8 net yards per punt ranked sixth in the NFL and he recorded a career long 66-yard kick in the season opener against the New Orleans Saints. Meanwhile, K Matt Bryant connected on 29 of 32 field goal attempts (90.6 percent) and led the NFL with seven field goals of 50-yards or longer.
The remainder of the coaching staff will be announced when retained.