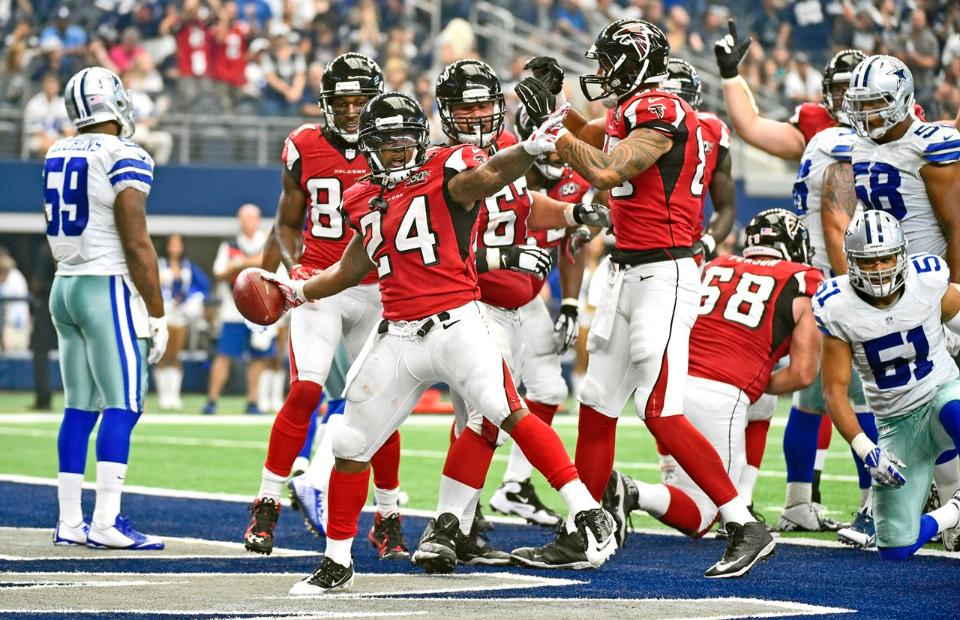 AtlantaFalcons.com
ARLINGTON, Tx.— For the third straight week the Falcons have won a game by closing it out in the fourth quarter. This one came courtesy of a 22-0 run in the final 30 minutes of the game.
In the first half, the Dallas Cowboys were able to run at will on the Falcons defense. They would finish with 131 yards during those two quarters. Running back Joseph Randle was hurting Atlanta the most with 92 yards and averaged just over nine yards per carry.
The Falcons bounced back in a huge way to make Dallas lose four yards rushing in that entire 30 minutes. Total adjustments made to the run defense? Falcons head coach Dan Quinn says no.
"Honestly it was not so much big changes that we went through as it was playing our style," Quinn said. "We mishit on some fits, it was as hard as it could be in the pass game and they completed just about every one. We had some subtle changes that we went through, but there was not a wholesale change in terms of our style of how we play. We just played it a lot better."
The Falcons were led on defense by linebacker Justin Durant's nine combined tackles in his return to AT&T Stadium since being a member of the Cowboys. That said, he wasn't a fan of his individual performance.
"I didn't play too well in my opinion," Durant said. I was just happy to get a win, regardless. In this league, it is tough to get them, especially playing against a team like that. To be able to come back the way we did, I am just happy regardless."
Durant says that not much was said in the locker room at the half in terms of making adjustments. However, one of the team leaders took it upon himself to go around to tell his teammates they were going to win the game. Keep in mind it was 28-17 at the time and offensive tackle Jake Matthews says quarterback Matt Ryan had a strong message for the team.
"Coming in at halftime Matt's running around and is like 'we're going to win this game- we're going to win this game,'" Matthews said. "Everyone's like 'yeah we are going to win this game.' It was exciting. It was a good win."
Ryan finished the day with 285 yards passing and two touchdowns. But with the game looking the way it was at the half. Why so confident in his team?
"I believe in the guys we have," Ryan said. "I feel like we've got a lot of playmakers both offensively and defensively. I feel like we got a little bit of momentum going into the second half, with the score before halftime (Matt Bryant 32 yard field goal). I just felt like we were going to get it done."
The star offensively for the Falcons was running back DeVonta Freeman, with his 193 yards of total offense. Freeman ran the ball into the end zone three times.
After the game, Freeman did almost everything he could to avoid taking credit for his performance.
"I couldn't have done this without the fellas," Freeman said. "It is just one game, take it to the next game and do the same thing. We just want to get better. I feel like it is about us, we know what we have to get better at. We just have to continue to grow."
Today was also Falcons owner Arthur Blank's birthday. Needless to say he's happy about this day even more than he was before the game.
The Falcons will return home next week for the Houston Texans inside the Georgia Dome.