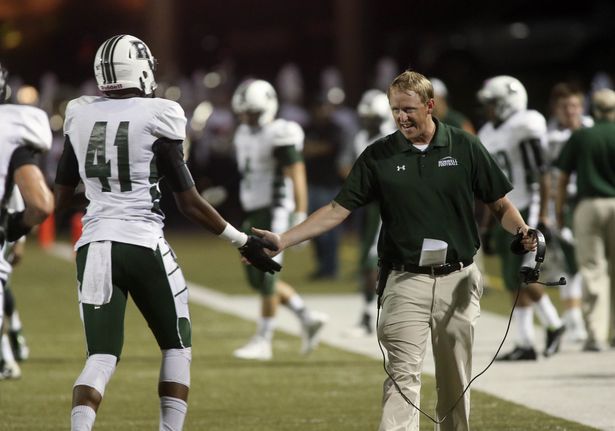 Presented by Ford, the Atlanta Falcons Coach of the Week program recognizes 12 high school football coaches across the state of Georgia for their hard work and dedication to making a difference in student-athletes lives on and off the field over the course of the GHSA season. 
The sixth winner of the 2016 season is John Ford of Roswell High School. Now in his fourth year at the helm, Ford has changed the Hornet culture. Just two years prior to his arrival in 2013, Roswell finished 0-10 in 2011.
Today, the Hornets are ranked No. 1 in Class AAAAAAA, No. 6 in the MaxPreps Xcellent25 poll and have allowed just 16 points through their 5-0 start with dominant wins over Buford (24-7) and two-time defending state champion Colquitt County (34-3), highlighting their resume.
Step by Step
"Right now we are just trying to be a little better today than we were yesterday," explained Ford on how he has helped rebuild Roswell. "That's what it comes down to, try to stack good days on top of good days. We believe in the law of incrementalism around here and just constant improvement and trying to meet a standard every day."
Those good days have started to pile up as the Hornets have increased their win total each year since Ford took over as head coach, improving from 4-6 to 8-4 to a school-record 14 wins a year ago and a trip to the state championship.
Fueling Fulton
"Humbled. Grateful to God, for sure," told Ford when he heard about winning Coach of the Week. "I'm just really thankful to have great players and coaches I get to work with every day."
Those same players and coaches that Ford works with on the gridiron on a daily basis are also present in off the field initiatives as well.
"We have players that read and get kids off the bus every Friday. We raise money for all sorts of different causes. For our spring game to get in, we asked that you bring a can for North Fulton Community Charities. We've partnered with a bunch of people. We've fed the homeless in the past; we've done a bunch of things like that."