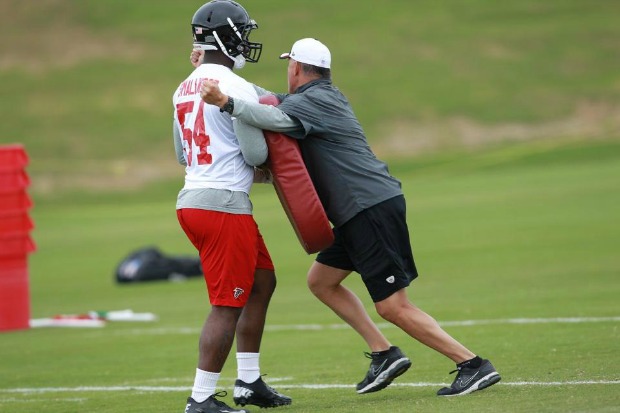 Jimmy Cribb/Atlantafalcons.com
Sunday was the third and final day of Falcons rookie mini-camp and it was the end of a long week for the young players.
Despite only being on the practice field for three days, the rookies have been working since last Monday and head coach Mike Smith feels they accomplished a lot in seven days.
"We got a lot of work done," Smith said. "We've worked extremely long and extremely hard with these rookies and tryout players."
Smith was pleased with how each rookie performed on the field but he was also impressed with something else that will always be noticed by the coaching staff.
"The thing that stands out the most to me is their work ethic," Smith added. "These guys work hard."
He also mentioned that nobody in the group has an overbearing personality, which is not a bad thing.
"It's a quite bunch," Smith said. "I think they're very focused and they understand the importance of coming out and competing every day. They have been fun to be around."
And because they are a focused group, signing half of the draft class was not an issue. And that exactly what happened on Sunday as five of the nine draftees were signed including linebacker Tyler Starr who was the Falcons final pick.
"The most important part is that I got a chance to show this team what I can do and bust my butt so I can make this team," Starr said. "At the end of the day I want to be playing football as long as I can."
Another player that signed was linebacker Yawin Smallwood who feels more confident about playing in the defensive system after learning it for a week.
"We have a better grip for it," Smallwood said talking about the scheme ran by Mike Nolan. "I'm just trying to pick up things faster and faster so I can make more plays out there."
Along with Starr and Smallwood, linebacker Prince Shembo, cornerback Ricardo Allen and linebacker Marquis Spruill signed contracts. And it was vital to get these players signed, especially the linebackers because of the multiple defensive scheme the Falcons are using this season.
"We put a lot on them in three days," Smith said talking about the linebackers and the rest of the rookies. "We're trying to get these guys caught up as quickly as possible with the veterans so when we start our OTAs, we want those guys to be caught up in terms of where we are in our installation with the veterans. They've a lot thrown at them."
The OTAs will start on May 27 which is the Tuesday after Memorial Day. So the next step for the rookies is getting ready for that. They will have the day off on Monday and will be back to work on Tuesday with coaching sessions which will be the same routine the players went through on Monday-Thursday. The goal for Smith and the coaches is to get these players up to speed because a few of them will be seeing a lot of playing time this upcoming season.
The first OTA session will be from May 27-29. The second will be from June 2-4 and the final OTA session will be from June 10-13. There will be a mandatory minicamp from June 17-19 before the Falcons have training camp in late July.