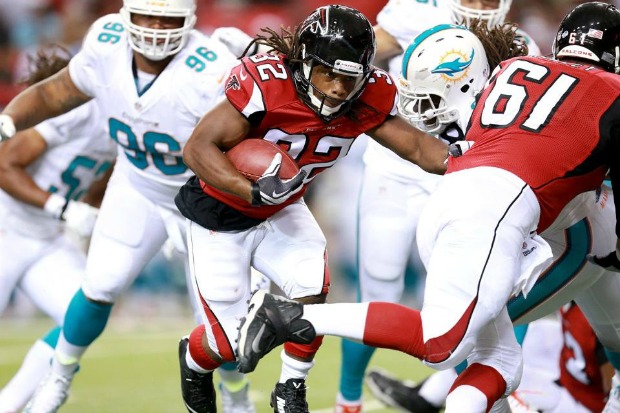 Atlantafalcons.com
After two weeks of working out at the facilities in Flowery Branch, the Falcons were back at the Georgia Dome to face the Miami Dolphins in their first preseason game of the 2014 season. And while the Falcons made their share of mistakes, they were able to outplay the Dolphins, which led to a 16-10 win.
"We had tremendous effort, throughout the entire ballgame," Smith said. "I liked the way our first-team offense came back and answered the opening drive."
The first-team offense put together a 15-play, 77-yard drive that ended with a Jacquizz Rodgers 2-yard touchdown run. This drive came right after the Dolphins opened the game with a 10-play 73-yard drive that ended with a Ryan Tannehill 6-yard score to Brandon Gibson.
"When I say there's some things that weren't as good as we liked, that would be one of them," Smith said talking about the first-team defense on the opening drive. "We ended up getting in too many third and shorts. We had an explosive play. There was a crossing route where we missed the pickup."
After that drive, the defense responded and ended up only allowing 229 yards of total offense.
"They did awesome," William Moore said after the first half. "They stopped the run a lot. They clogged up the whole a lot. When you get shifty backs like Miami, they like to bounce a lot, so those guys were going their jobs."
When it comes to the preseason, it's not about winning or losing. It's about evaluating and the coaches were able to take a lot from this game in terms of evaluating the young players. One of the players that stood out is Devonta Freeman who led the team with 10 carries for 50 yards. He also had one catch for 57 yards in the fourth quarter that led to a Sergio Castillo 34-yard field goal to give the Falcons the 16-10 lead.
"I know I have a lot of stuff to work on," Freeman said. "I feel like I need to get more consistent."
Freeman also said that he was nervous as the game began, but as soon as he got his first carry, his nerves calmed and he was ready to play.
But he wasn't the only running back to perform well. Antone Smith only had three carries for five yards, but he did have a 34-yard reception in the first quarter and a 76-yard touchdowns run in the second quarter. However, both plays were called back because due to offensive penalties.
"It's competition with everybody," Freeman said. "I fell like its making all us better."
The young players on defense also played well. But the one player that stood out was Prince Shembo who had the one and only sacks for the Falcons or the Dolphins.
"It was impressive to see his strength," Smith said. "That's something that we'll always to continue to harp on our guys. It's not always about the sack numbers, it's about the pressure you put on the quarterback.
T.J. Yates, a Pope High School alum, made his Falcons debut and he went 6-of-15 for 108 yards with a 65.4 quarterback rating. Sean Renfree played the majority of the second half and he went 7-of-16 with 127 yards and a 71.6 rating.
As for Matt Ryan, he was flawless in his only series, going 4-for-4 with 53 yards and a 98.2 rating.
It was the first time the coaches and fans got the see the 2014 Falcons in game action and despite the mistakes, Smith liked what he saw.
"We always evaluate first impression and I thought the first impression was good," Smith said. "We want to be a physical football team and we showed that in the game tonight."
The Falcons will have a workout at Flowery Branch on Saturday afternoon at 4:30 and will have the day off on Sunday they will have two more practices at Flowery Branch before heading to Houston two combined practices with the Texans on Wednesday and Thursday. Both teams will square off at Reliant Stadium on Saturday at 8 p.m.