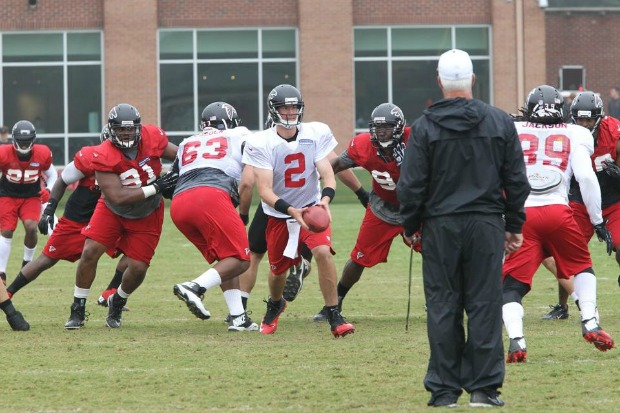 Atlantafalcons.com
From the beginning of May until now, the Falcons have been hard at work preparing for the 2013 season. It started with rookie minicamp, continued with OTAs and veteran minicamp and training camp is was the final stage of the preparation for the upcoming season.
On Sunday, training camp came to a close with a morning practice session and the Falcons will now prepare for the third exhibition game against the Tennessee Titans.
Even though training camp is now over, Falcons head coach Mike Smith knows his team has a lot of work to do between now and the start of the regular season.
"Well, camp is over in one sense, but it's not," Smith said. "We got a lot of work done in terms of installing our offense, defense and special teams for the third time. And I got a chance to evaluate guys, but it's far from over. We still have two more weeks before we get to our regular season first game, and we still have a bunch of evaluations to make."
The one thing he will do this week is prepare this game as it was a regular season contest because this is the game where the starters will play into the third quarter.
One of the veterans that will see plenty of action is Tony Gonzalez who made his return to practice on Sunday after missing the last two weeks.
But is Smith worried about Gonzalez having and problems getting game-ready for the season?
"It didn't look like he missed a step," Smith said talking about Gonzalez first day back at camp. "Tony is in his game-week preparation mode now. We're going to play him in the ball game on Saturday, and look forward to seeing him out there competing in practice, but more importantly playing in the ball game up in Nashville."
Another player that will be ready to go is center Peter Konz who is also glad that camp is over.
"I've been doing camp since my freshman year in high school," Konz said. "Yeah I think I'm ready to be done."
Even though Konz is excited that the camp part of preseason is over, he knows there is still a lot of work to be done. And it continues with the third preseason game on Saturday against the Titans.
"We want to make a statement right away," Konz said. "We want to start that motivation and start that momentum."
Konz is also happy with the way the starters have looked in the first two preseason games. He likes the way the offensive line has communicated with each other and they way they have been physical against very good defensive lines in Cincinnati and Baltimore.
The same thing can be said about the defensive line as they also been able to be physical and communicate with each other consistently. Kroy Biermann is happy with the way the defensive line and the rest of the team worked during camp.
"The guys put in a lot of work," Biermann said. "We have some work to do still, but this team is coming together."
Like Konz, Biermann is also excited about getting more reps in the Titans game on Saturday.
"It gives us a chance to get into a rhythm and a routine for the regular season," Beirmann said. "It also gives you a chance to work on your craft and trade."
Konz, Biermann and the rest of the Falcons will have Monday off and will hit the field Tuesday and Wednesday to prepare for the Titans.