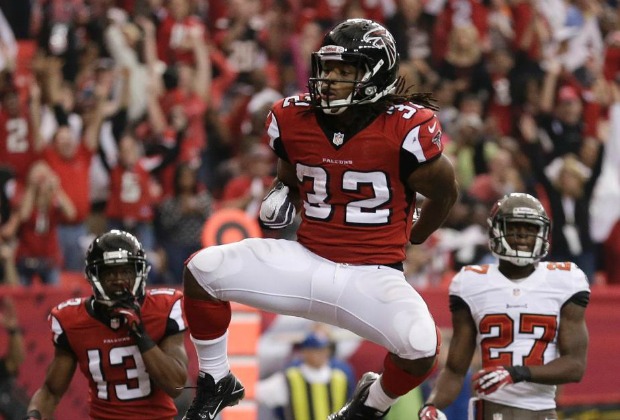 atlantafalcons.com
Atlanta moved to 2-4 with its 31-23 Week 7 victory over Tampa Bay. Matt Ryan threw three touchdown passes and recorded a career-high passer rating of 148.4. Wideout Harry Douglas embraced the No. 1 receiving role with a sidelined Julio Jones and Roddy White and paced the offense with a career-high 149 yards and a 37-yard touchdown. The 149 receiving yards marked the most ever by a Falcons player against the Buccaneers.
"He stepped up to the plate and did an extremely good job," head coach Mike Smith said of Douglas.
CATCH AND RUN …
The Falcons were awful in the run game against Tampa Bay, posting a season-low 18 yards on 18 carries, but running back Jacquizz Rodgers was outstanding in the passing attack. Rodgers hauled in a team-high eight receptions for 46 yards and two touchdowns out of the Atlanta backfield.
"I thought we put together a very good plan to utilize the strengths of our players,"said Smith. "We talked during the bye week, if you had a Falcons logo on your helmet you were expected to step up and make plays…and I thought we did that."
Defensively, William Moore and Thomas DeCoud helped set the tone early. Moore came in on the blitz and caused a sack-fumble that DeCoud ran in for a 30-yard touchdown.
"It was a great play call by coach (Mike) Nolan," Moore said of his defensive coordinator. "He called it and we executed it perfectly and got a big turnover."
ARIZONA ABE …
Atlanta will hit the road to take on the 3-4 Arizona Cardinals this Sunday. The Falcons are 0-2 away from the Georgia Dome this season and have not been on the road since Week 3 when they fell to the Dolphins 27-23 in South Beach.
Former Falcon John Abraham will be suiting up for the Cardinals. Arizona picked up the three-time All-Pro defensive end after the Falcons released him this offseason. Abraham started seven seasons for the Falcons (2006- 2012) and his 124.0 career sacks are the most among all active players. Abraham posted 2.0 sacks and two forced fumbles last week against Seattle and this will be a significant game for the motivated 35-year-old.
Ryan threw a career-high five interceptions in last season's 23-19 win over Arizona and enters this game with multiple passing touchdowns in all six games this season compared to only three interceptions.