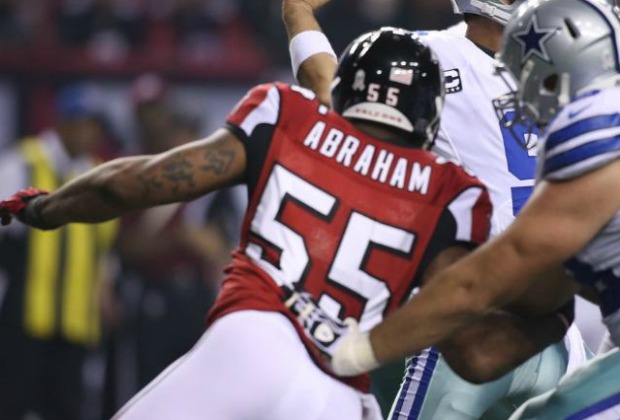 Atlantafalcons.com
The Falcons took care of the Dallas Cowboys 19-13 in a primetime Sunday Night Showdown while boosting their season record to a perfect 8-0, putting a wrap on an untarnished first half to the season. There is electricity and a wealth of talent on both sides of the football that has been on display during the continuing historic run, but as Mike Smith alluded to in his post-game press conference, the biggest strength of this team has been its ability to adapt and share the spotlight week to week.
"You do not know who it is going to be each week but this is the NFL and every guy on this team knows his role and that when he is out there that he is expected to be the guy," said Smith.
THE BURNER
Michael Turner got his turn on Sunday to be that guy by scoring the Falcons' lone touchdown and adding 102 yards on the ground that put Atlanta in control of the ball game in the second half.
"Our offensive line really did a great job tonight against a strong and talented Dallas front, and now we just need to keep improving together," said Turner.
When it was not Turner it was Jacquizz Rodgers shaking the dome and defenders with his explosive bursts or Julio Jones and Roddy White winning their battles out wide. Matt Ryan once again out-dueled a counterpart on the primetime stage, by going for 342 yards on 24 of 34 passing against Tony Romo.
A pair of missed field goals from the Falcons' 11-year pro kicker Matt Bryant, and several drives that stalled short of the end zone, were not enough to shield Smith from applauding a lustrous team effort on Sunday.
"I really like the way our team played in all three phases of the game," said Smith. "We still made a lot of mistakes, but they are all correctable and we have a really good football team here."
The Falcons hold a four-game lead over the .500 Buccaneers in the NFC South, but out of six total division games Atlanta has only played one: a last-second win over Carolina.
Ryan is a well-deserving choice for MVP this season, and Sunday will be a big moment when he goes toe to toe with one of the league's best in Drew Brees.