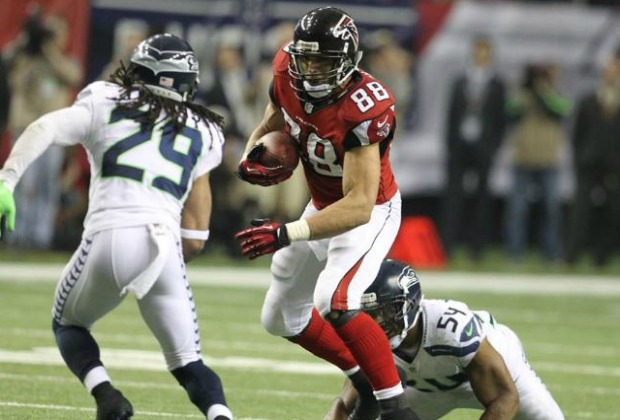 Atlantafalcons.com
For the first time in franchise history, Atlanta will host an NFC Championship game. In the 42-year history of franchise prior to 2008, the Falcons had never managed consecutive winning seasons; now after posting an NFC-best 13-3 record this year, the Falcons can boast five straight winning seasons. Despite all the recent success and annual relevancy, the last Falcons playoff win before Sunday came in 2004.
A seemingly comfortable 20-point Falcons' lead heading into the fourth quarter suddenly vanished thanks to Seattle's rookie phenom Russell Wilson. Trailing by one point, the playoff lives of Matt "Matty Ice" Ryan and the Falcons rested on thin ice before the offense rallied for one of the biggest postseason wins in Atlanta history.
With 31 seconds remaining and Seattle holding its first lead of the game at 28-27, the Falcons took over from their 28 yard line. Ryan delivered a 22-yard strike to Harry Douglas out to midfield for the biggest catch of his career. The following play, Ryan found Tony Gonzalez for a huge 19-yard gain to put Matt Bryant right where he needed to be to knock through a the game-winning field goal from 49 yards out.
"Giving up a 20 point lead is something you have to concern yourself with," said head coach Mike Smith, "But we talk all the time about playing a 60-minute ball game and that's what we did."
The highs and lows in this emotional win were as distinct as the continuing career of Gonzalez, who had never won a playoff game in his 16-year career before playing hero Sunday. Gonzalez cycled through 16 years of previous playoff disappointments in the moments after Seattle took the lead.
"All I thought was 'here we go again,'" said Gonzalez. "It just wasn't meant to be."
Unlike in previous shortcomings, though, Gonzalez was surrounded by teammates that still believed. He credits them as the difference that lifted the team.
"I thought it was over," said Gonzalez, "But then when you see Matt Bryant on the sideline saying 'we've done this before, we'll do it again,' and then you see a great quarterback and great receivers on the field with you, and I had to believe we could do it."
It took every play of what was the best postseason game of Gonzalez's career to get the victory. The 19-yard catch was the second longest postseason reception of his career, and his six receptions and five first downs were both career highs as well.
"Its probably the best catch I've ever had, even though it was probably one of the easiest," laughed Gonzalez, "But it's the most important catch I've ever had in my life and…shoot…I'll never forget it."
NFC CHAMPIONSHIP
Now all attention shift towards the Falcons' next barricade on the road to New Orleans. San Francisco comes to Atlanta boasting a top-five rushing attack, run defense and pass defense. The weapon of this durable 49ers team is its second-year quarterback Colin Kaepernick, who is as efficient a quarterback you can have. He threatens defenses in a variety of ways. Gameplanning for a player like Kaepernick is an arduous task, but last week's gameplan to stop the explosive Seattle offense will influence how this week's defensive blueprint is scripted.
In the Seattle game, Smith said the gameplan was to make sure the defense was stopping Lynch. The strategy to contain Lynch was successful and "Beast Mode" was held to 46 yards on 16 carries. The pitfall to the approach was the quarterback, and Wilson rushed for 60 yards and threw for 385 yards and two touchdowns.
The talent of both young quarterbacks has been well known within the coaching staff and Smith sees the potential problems they create.
"I believe there were 145 snaps in the 17 games that he [Wilson] extended plays when I watched his entire season and we knew that we had our hands full," said Smith. "We did not play very good coverage, we did not play the layers routes well, there was a hole that we were not taking care of and we need to make sure that we are playing deep to short and we were not doing that in those situations against San Francisco."
Kaepernick is more prone to run than Wilson, and the Atlanta defense will need to gameplan to stop the read option that sent Kaepernick to a NFL all-time quarterback record 181 rushing yards on 16 carries in the 45-31 win over Green Bay last week. A healthy John Abraham is going to be needed for stopping this offense.
Rookie defensive end Jonathan Massaquoi, who saw more snaps after Abraham was sidelined, explained the importance heading into Sunday.
"Communication is the key out there," said Massaquoi. "When Abraham went down, he told us make sure you communicate every play with each other. That is something we (have) got to do better next week as a unit."
The vocal leadership and understanding of the game that Abraham possesses will be a key for the Falcons.
Whether or not Abraham will show up Sunday 100 percent healthy has yet to be determined, but Smith and his staff made sure when he retweaked his ankle that they would put his health for this week as the primary concern.
"We were very precautionary and felt like we could probably get through without having him out there, but it ended up being way too close for everybody in that stadium," admitted Smith.
San Francisco's powder keg of an offense and salty defense will try and be the icebreakers to the Matty Ice-led Falcons. Ryan is 34-6 all time in the Georgia Dome, and, for the first time will take to the field without the playoff win monkey on his back. This time, he is only one win away from the Super Bowl.