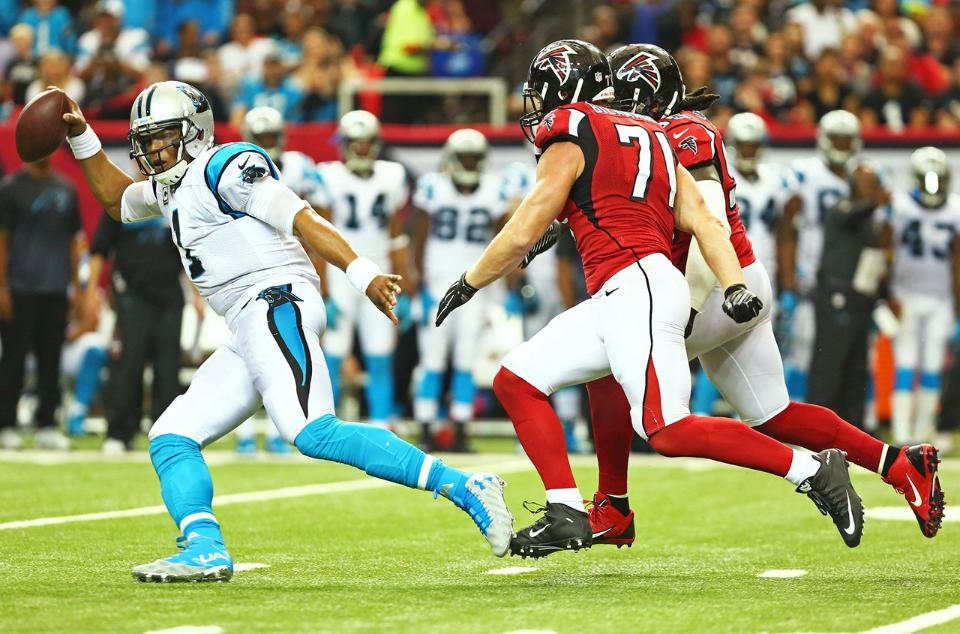 AtlantaFalcons.com
ATLANTA, Ga.— This game started very similar to the way the last meeting went for the Atlanta Falcons against the Carolina Panthers, with a touchdown. Quarterback Cam Newton ran it in from eight yards out to cap off an 11 play, 80 yard drive.
The Falcons were able to respond. That is something they haven't been able to say at times this season.
We only got to see Newton "Dab" only one series in this game, because he was kept out of the end zone for all but that one time. He would be held to just 142 yards passing on 17-30 completions.
This win comes down to one thing… The Falcons found a way to finish. Defensive end Adrian Clayborn says they did exactly what they needed to do.
"We knew it wasn't going to be a blow out," Clayborn said. "We knew we had to finish it. Once we got the opportunity, we put our foot in the ground."
Newton's 188 total yards of offense was his second worst performance of the season. He only totaled up 175 against the Tampa Bay Buccaneers in week four.
The Falcons were able to sack Newton twice and forced a fumble from him to end the game. Clayborn was responsible for the recovery.
The play of rookie outside linebacker Vic Beasley could not be overlooked, as he sacked Newton to force that fumble. He also four tackles and a pass defended.
There were numerous times that you looked into the Panthers backfield and saw Beasley with an effect on the play. He says the players and coaches got him prepared for this week.
"We had a great week of practice," Beasley said. "We were able to get him a couple of times the first time we played them. We just kept hunting and kept faith. We've been pressuring quarterbacks a lot this year."
We haven't even mentioned the play that made this game special for the Falcons today. That is the acrobatic jump-ball catch made by wide receiver Julio Jones over the outstretched hands of superstar Carolina linebacker Luke Kuechly. Jones would bring it in and then go the remaining yards to cap off a 70 yard touchdown to put Atlanta up 14-10 at the time.
"We had that same look in the first game," Jones said. "We had that same look in practice and (quarterback) Matt (Ryan) was like, 'hey I'm going to give you an opportunity. I'm going to throw it up and make something happen.'"
This win comes just two weeks removed from the Falcons embarrassing 38-0 loss to the Panthers in Charlotte. Jones says that was an anomaly and not the norm for his team.
"We weren't playing Falcon football," Jones said. "We had to get back to what we do and what we believe in. Starting the game fast, then finishing the game fast."
With the win, the Falcons have put themselves in position to possibly finish above .500 for the first time since the 2012-13 season. Quarterback Matt Ryan has been with the franchise for the highs and lows of the past few seasons.
He says this one ranks up near the top of best wins to be a part of during his Falcons career.
"I thought it was huge," Ryan said. "We're still alive with a chance and we wanted to make sure that we gave ourselves that opportunity. But even more so to come out and play like we're capable of when we haven't done that at different times of the year, that felt really good."
The Falcons season finale comes next Sunday inside the Georgia Dome against their hated rivals in the New Orleans Saints. The Falcons also will be trying to beat the team that handed them their first loss of the season.