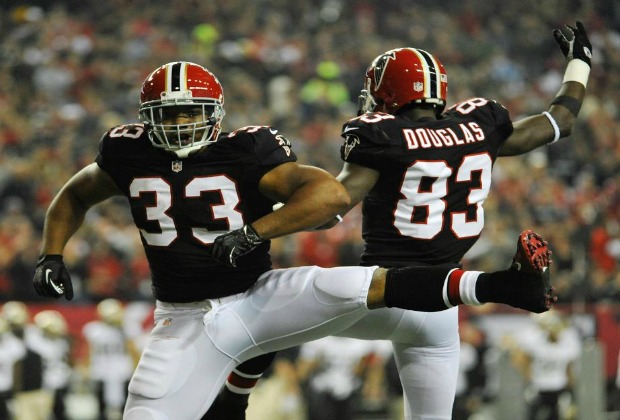 Atlantafalcons.com
The Atlanta Falcons are cruising into the final quarter of their 16-game season to face a 3-9 Carolina team in a rematch of the thrilling 30-28 comeback win In Week 4. The Panthers find themselves in the basement of an underachieving NFC South this season that awarded Atlanta with the its second division crown in three years with four games still to play. Next on the list for head coach Mike Smith and the 11-1 Falcons is to secure home field advantage and a first-round bye in the playoffs. With San Francisco and Chicago both losing last weekend, the division champs moved one step closer to their final regular season goal. Winning two of the last four games would secure the top seed regardless of how the rest of the NFC finishes 2012.
TEAM GOALS …
Getting healthy is going to be a big part of the final stretch of the season, and many eyes will be on cornerback Asante Samuel, whose health will be a priority after a recurring shoulder problem sidelined him over the last few games. The secondary has had its share of injuries, but the unit continues to pass the cerebral and physical tests of defending the leagues top quarterbacks and offensive attacks. The defense is coming off its best performance of the season after forcing Drew Brees to throw a career-high five interceptions.
Safeties William Moore and Thomas DeCoud have impacted games all season, and Moore's physical tackling and playmaking, combined with DeCoud's acrobatics, has created a safety net for the aggressive Mike Nolan defense. The duo has combined for nine interceptions. The three-year pro Moore is leading the Falcons with 59 solo and 16 assisted tackles and doing it from the safety spot. John Abraham leads the rush with 10 sacks on the season. After the offensive side of the football grabbed the attention in the earlier part of the season, big defensive performances in big games have helped build a solid reputation around this unit.
PANTHER PRIDE …
The Carolina offense found success against the Falcons in their last matchup and defensively sacked Matt Ryan seven times. The Panthers come off a disappointing loss against the Kansas City Chiefs in what was a grief-stricken Arrowhead Stadium. They are expected to be a focused and hungry opponent for the Falcons this Sunday.