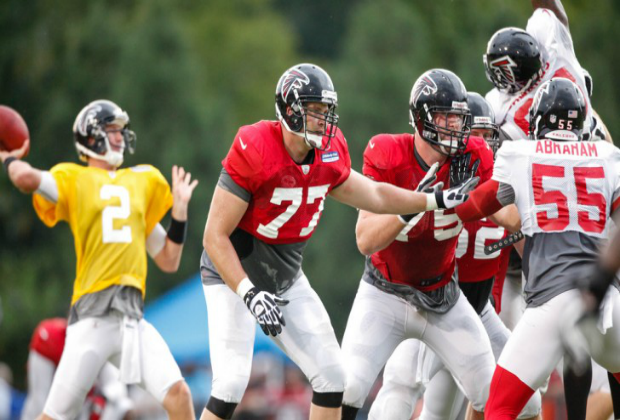 Atlantafalcons.com
The Atlanta Falcons will head up 75-N to take part in tonight's Falcons Football Night in Dalton. The event will be a combined practice with the Tennessee Titans held at Coahulla Creek High School, an event that the team hopes can become an annual occurrence.
This will mark the third consecutive year the team has participated in a combined practice with another NFL team. Last season the team traveled to Jacksonville for combined practices with the Jaguars. The Falcons also practiced with the Jaguars and the New England Patriots in 2010 at the Falcons' home base in Flowery Branch.
Falcons Football Night in Dalton is open to the public and admission is free. The event will include a fan fest similar to the one from this past Friday at Falcons Friday Night Lights which was held at Peachtree Ridge High School. Cheerleaders and players will hold an autograph session after the practice.
"The National Football League is considered the highest level of competition in football. I can't think of a more exciting way to begin the school year and the football season than attending a professional football combined practice," said Danny Hayes, Whitfield County Schools Superintendent in a Falcons' release. "Sports and sports media is a powerful force in today's society and this event can bring together thousands of families from Georgia and Tennessee. We thank Mike Smith and the Falcons organization for allowing us to host this event and hope that you will join the Atlanta Falcons, Tennessee Titans and Coahulla Creek High School as the teams and players reach out to our community."
Gates open at 3:30 p.m. and the practice begins at 4:30 p.m.