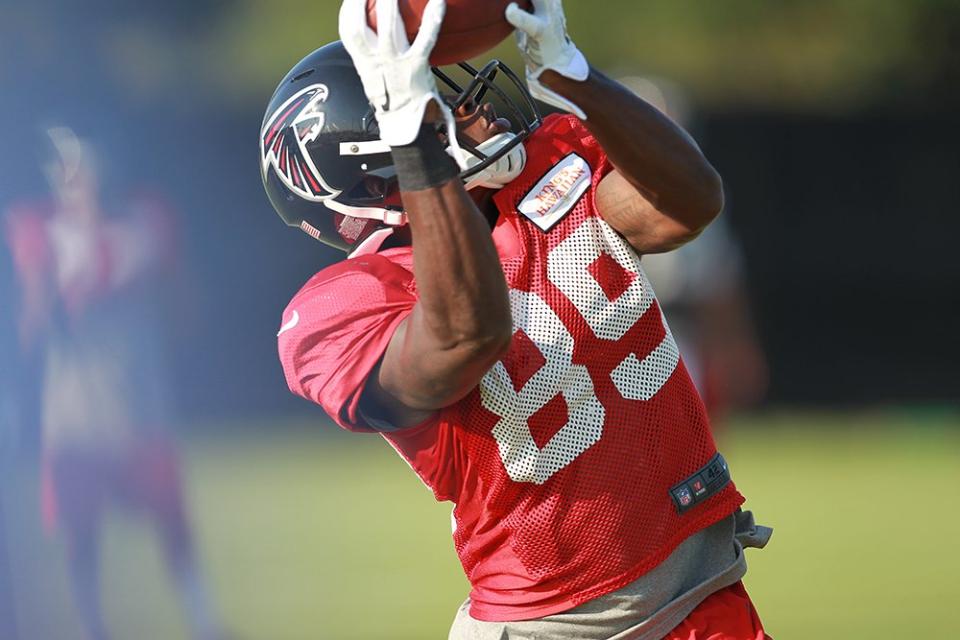 AtlantaFalcons.com
The Falcons held off the Miami Dolphins 16-10 in the preseason opener last Friday, clinching their second preseason victory since 2011. Finding the win-column was a good sign for a team that lost 12 of its 16 games last sea- son but the real sense of victory came from the way the scrimmage was played. Atlanta held Miami to just three points after the opening drive and offensively, the Falcons left the field without allowing a single sack. The last time the Falcons were at the Dome before Friday's win was Week 17 of the regular season and Matt Ryan was sacked career-high nine times.
"Our pass protection was really good tonight," said Ryan. "Miami has a really good front seven. We know that from having played them last year. Our guys stepped up to the challenge. They did a great job."
Miami took the opening kickoff and marched down the field on a 10-play drive that resulted in a 6-yard touchdown pass from Ryan Tannehill to a wide-open Brandon Gibson in the corner of the endzone. Tannehill was 6-6 passing on the drive for 62 yards and it looked like the defense was in for a long night.
"There are some things that aren't as good as we liked and I would say that first drive was one of them," admitted coach Mike Smith after the game. "We ended up getting into too many third and shorts. We had an explosive play, with a crossing route, and we just missed the pickup…We were in a coverage where we should be able to stop that so we'll see that on film and we'll be better in that area next time." The Dolphins touchdown took less than three minutes and Ryan and the offense took the field in what would be their only drive of the game. Devin Hester returned the kickoff to the 23-yard line and the Falcons orchestrated a nearly flawless 18-play drive. Ryan was 7-7 for 53 yards and Roddy White caught four passes on the drive. This drive got Atlanta on track and set the tone for the rest of the game.
"It was a good start for us offensively," said Ryan. "When you start off a year, it is nice to have a long drive and go down and score some points. I thought we did everything we wanted to do. We wanted to come out and run the football and we did a great job of that. We had 25 yards of rushing just on that first drive."
Jake Matthews made a fantastic NFL debut and with veteran guard Jon Asamoah made a huge impact on the right side of the offensive line.
"I thought Jake handled his first NFL playing time extremely well. We wanted to extend the playing time of the offensive line and we wanted to see them play together as a unit…I thought Jake did some very good things. I continue to say that Jake's on a very fast track to becoming a very good player in the NFL."
The first offenses for both teams were dominant, but after the initial drives, the Falcons depth and youth began to steal the show. The Falcons defense held Miami to 3-12 on third downs after the first drive and just 52 to- tal rushing yards all game.
Miami was running new offensive coordinator Bill Lazor's playbook and it is a non-tradi- tional running attack that uses read option and multiple looks. Staying disciplined and not giving up the huge plays was a great sign for the young Atlanta defense.
"There were some read option plays that we saw tonight and that's not something that we game plan for," admitted Smith. "We'll have a completely different setup for when we'll see that in the regular season but I did like the physicality and the way we played tonight."
MAKING MARKS …
Preparation for the regular season is just one dynamic of the preseason. Position battles and roster spots are the other biggies. There have been multiple players this offseason that not only proved worthy of a roster spot, but have demonstrated the ability to take on significant playing time this season.
With running back Steven Jackson sidelined for the preseason with a hamstring injury, Jacquizz Rodgers got the start. Rodgers rushed in Atlanta's only touchdown on the opening drive, but it was his running mates Devonta Freeman and Antone Smith that dazzled.
Last season, Smith showed his explosiveness in his very limited action. The former Florida State running back took five carries for four 1st downs, 145 rushing yards (29 yards per carry) and two touchdowns. On Friday, he had more explosive plays in the rushing game and passing game that were called back for penalties.
"Antone had some very explosive plays," said Smith. "He's a guy that can do some special things when we get the ball in his hands. I would imagine we would want to make sure to help him get some touches, put him in an advantageous situation, but I was very impressed with him."
Smith was not the only former Seminole impressing the coaching staff out of the backfield. Freeman had an outstanding rookie debut and took 10 carries for a game-high 50 yards rushing and added a 57-yard reception.
At receiver, undrafted free agent rookie Bernard Reedy continued his solid offseason. The former Toledo star is easily one of the fast- est players on the team and he used that speed to haul in a game-high 61 receiving yards off two receptions. A total of 17 Falcons caught passes in the preseason opener so this is certainly still a heated competition for a roster spot, but Reedy continues getting open and making plays. His quickness on the field with Julio Jones, White and Harry Douglas would form a dangerous four-receiver set.
Defensively, Prince Shembo had the most impressive performance. The versatile rookie totaled four tackles and included the Falcons first sack of the season. Shembo's work on spe- cial teams was equally solid and Shembo has a legitimate shot at earning the starting linebacker job over Joplo Bartu this season.
The remaining offseason we will see a lot more of backup quarterbacks T.J. Yates and Sean Renfree. The former ACC signal callers did a great job managing the game in the pre- season opener and not forcing mistakes while battling for the No. 2 job. Yates finished 7-16 passing for 127 yards and Renfree completed 6-of-15 for 108 yards.