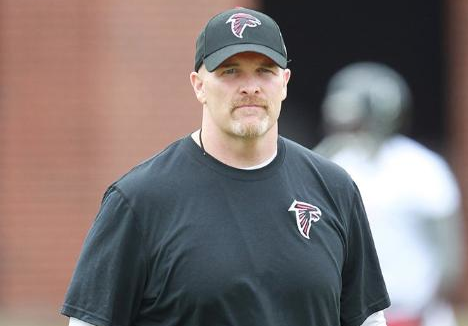 AtlantaFalcons.Com
FLOWERY BRANCH, Ga.– Wednesday afternoon marked the end of the veteran mini-camp for the Falcons, as they were granted the early practice time with head coach Dan Quinn entering his first season. Now we wait in anticipation for who will become the newest member of the team, after Thursday night's first round of the NFL Draft is in the books.
We also found out some new things about Quinn, with the types of music that are played during the team's work on the field. This is something that the new head coach has brought to town in order to simulate the "game like" atmosphere of Sunday's during practice.
Yes, Quinn does have control of the playlist during practice, but does allow his players to have their input. Plus, he even left the playlist open to the media. We just have to get them in to the team media relations department.
As for Quinn, you can hear his choices of music on the field during the work. He said that he liked that Michael Jackson was playing during team stretching period.
As for what he likes?
"I'm pretty eclectic when it comes to music," Quinn said. "You'll hear everything from Michael Jackson to Bon Jovi to Drake and pretty much everything in between. It's more the energy that we bring at practice. It's loud, we've got to communicate, it's more game like, and it's a lot of fun."
There is actual on-field work that has gone down over the past couple of days, while that music was playing. As stated earlier, the team was able to get to know their new coaching staff a little earlier this year.
The introduction process was well-received by their head coach. He was beaming with excitement when talking about the chance to evaluate this team even more.
"For me to get a chance to see some of these guys, see that at their best, and what they can do as a coach it makes it that much easier to see how these guys could be featured in our system," Quinn said. "(Like) he's a guy who can play on the line, or he's a safety who can play in the middle of the field, or he's a receiver that could be really valuable on third down, or here's another guard that can really run his feet. So, for me that was the more valuable time to get a chance to evaluate all the players. I kept watching the practice tape again and again last night for me to get to know the guys more. I can't wait to do that again tonight."
Now it is time for the draft and the Falcons will pick eighth overall, assuming they don't make any deals tonight.
Quinn is entering his first draft as a head coach in the NFL. However he already handled his preparation like an experienced veteran.
"That was really the goal to have that done," Quinn said. "Because I knew this camp was here, so it wasn't like where we could be in and out. I wanted to make sure from my end, the process was done and we kind of had this as the days to evaluate with the team."
Even with that being the case, there's still moving parts before we hit the start of tonight's first round. For example, the news of Missouri pass rusher was cited for misdemeanor marijuana possession earlier this week.
Quinn joined Sirius-XM's Adam Schein on Mad Dog Sports Radio Tuesday to say that Ray is "absolutely" still on their draft board.
"When we're going through the process we felt good about him," Quinn said in the radio interview. "He had a set-back and it was hard, but hopefully it's one he learns from and can move on from."
Quinn added on Wednesday that draft discussion are still on-going and that they have "been through that a bunch" in regards to reviewing the draft board.
This will be his first draft as mentioned in this piece already. He says he hasn't taken any advice for how to be a head coach during the draft from previous bosses like Pete Carroll.
"I think as all of us know we're at our best when we're our self," Quinn said. "So I kind of need to do it my own way to kind of figure it out. For me that was in our first practices, even as a head coach. So, that was fun too."
So now who will the Falcons pick tonight? That is anyone's guess.
A few things we do know? Dan Quinn is a huge music fan, energetic, and prepared for tonight.