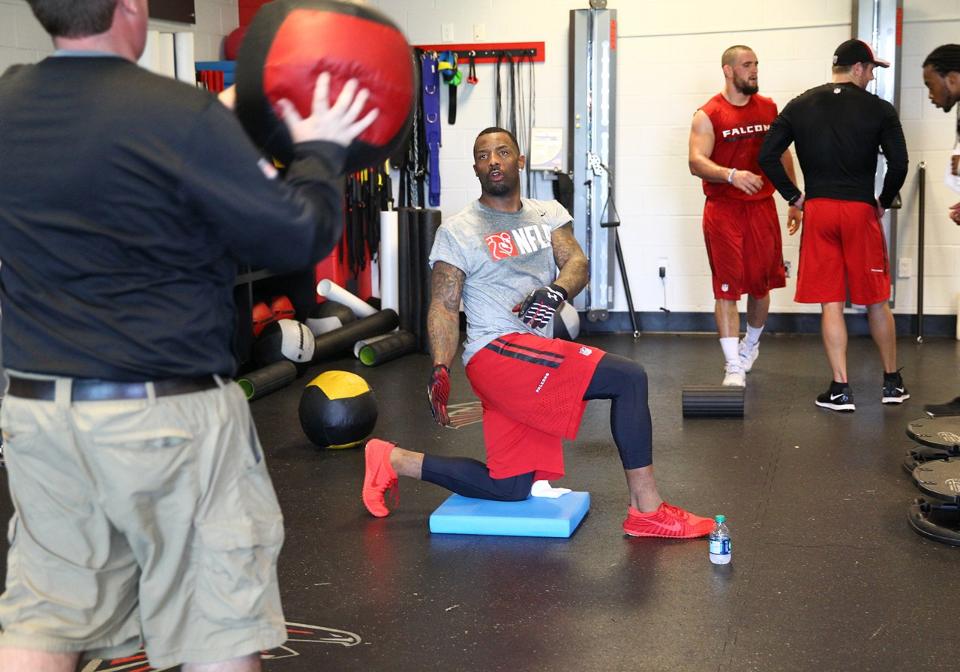 Jimmy Cribb/ AtlantaFalcons.com
Monday marked the first day that Falcons players and coaches were able to meet up with each other during the offseason. This year is a little more unique, with Dan Quinn taking over as the team's head coach.
Thursday we had the first chance to check in on the players working out and visit with Quinn, since they were allowed to return.
One thing we've heard about with Quinn, is his high energy and positivity that he brings to the job. Both of those qualities were voiced by him when he met with the media.
"I've been looking forward to this day for a long time," Quinn said. "Each day I was probably wearing the people out (with) only 20 more days until the guys come, only 10 more days. I was really needless to say excited to have everybody here and look forward to connecting with all of them."
Since Dan Quinn took over the team in February, he's been evaluating the roster as it currently stands and added players through free agency. He acknowledges that this is the most evaluation of his own players that he has ever done during his career.
When they returned, Quinn and his coaching staff had an interesting return gift for them.
"We made 'point of attack' tapes on all of the players," Quinn said. "Whether they were here or they came in from another organization. That'll be the case for next year as well. In these 'point of attack' tapes here are some the things you are doing well and here are the things that we want to focus on improving this offseason."
The 2015 team as currently constructed does not have a huge amount of turnover on the roster. Quarterback Matt Ryan is one of the more senior members on this team and has enjoyed the time spent with his new coach.
"I've really enjoyed just kind of getting to know him as a person," Ryan said. "He's got great energy and he's awesome here in the building. It's not that difficult of a transition, because I think Dan has made it easy for everybody."
Ryan and the offense are trying to do something they haven't done with consistency over the last few seasons, run the ball effectively. Last season, they averaged only 93.6 yards per game in that category.
So, now comes in Kyle Shanahan as the new offensive coordinator and the zone blocking scheme on the offensive line. He and his father Mike have been successful with their offense over the years and now Ryan is hoping it translates in Atlanta.
"One thing you do see from this scheme is that they've had success everywhere they've gone running the football," Ryan said. "They've allowed lots of different styles of backs, lots of different guys to really do a great guy. They're very specific in what they do."
Ryan continued on when talking about his new coordinator and quarterback's coach to mention phrases like "attention to detail" when talking about their styles of coaching. His first chance to work with the new coaches on the field, will come starting April 28 when the Falcons open up mini-camp.
On the defensive side of the ball, cornerback Desmond Trufant soon gets his chance to work with a man who coached his brother in Seattle with Quinn. He also likes Quinn's energy and described exactly what he likes with it.
"The energy's great," Trufant said. "From the first meeting, the energy's going, the music's pumping, and the excitement's there. He just wants to get everybody comfortable and let everybody know how we're going to do things."
Trufant seems right in line with what Quinn says they want this team to be in their "fast, physical, aggressive, and attacking the ball" style.
Desmond's brother Marcus played for the Seahawks, when Quinn was there from 2009-10 as the defensive line coach. He's told his younger brother a lot about his new head coach and so have other former players.
"I've talked to guys like Walter Thurmond and guys like that," Trufant said. "They've reached out and told me he's a great coach. You'll have a lot of fun playing for him, you're going to be free, it's going to be simple, and you're going to be out there ballin' pretty much." I'm just excited. I can't wait to get out there on the field."
One of the coaches on this staff is former NFL safety Marquand Manuel. Trufant says that Manuel has already pulled the "Little Tru" nickname on him, from his playing days with Marcus back in Seattle. He will be coaching along the position's coach Raheem Moore.
Today for the media and for the organization stands as just a taste of football at the moment. We'll get an appetizer in three weeks, when they hit the field for mini-camp.