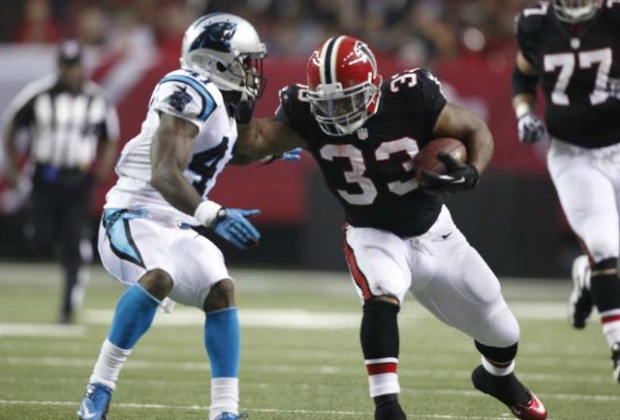 Atlantafalcons.com
Before Atlanta's 5-0 start and the excitement that continues accumulating with the best start in the franchise's history, a frustrated Mike Smith reiterated the importance of the little things following an inconsequential loss to the Bengals this preseason.
"You cannot win games with double-digit penalties," said an adamant Smith. "That is not the type of team we are, and we have to get this cleaned up and changed right away."
Entering Week 6, the undefeated Falcons sit in first place in the NFC South and are the least penalized team in the league by a wide margin. Through their first five games, the Falcons have committed just 16 penalties and the team's sharp attention to detail and combined effort on both sides of the ball has been the formula to the early success. The offensive firepower that has been commanded by Matt Ryan with Roddy White, Julio Jones and Tony Gonzalez has been matched with an equally notable defensive effort.
The defense is the best in the league in forced turnovers with 14. Safety Thomas DeCoud leads the team with four interceptions, tied for the league high after he iced the game with a late pick in last Sunday's win in Washington. The Falcons have tallied nine interceptions and five forced fumbles on the year. The team's four total turnovers puts the team at a comfortable league-best plus-10 in turnover margin. This favorable ratio combined with a polished effort each week is testament to how this team continues to find ways to win.
RAIDER INVASION
The 1-3 Oakland Raiders will come to the Georgia Dome Sunday fresh off a bye week that followed a 37-6 hammering by the Broncos. This has been an uncharacteristic Oakland team through the first five weeks as the Raiders are dead last in the league with only 60.8 rushing yards per game. Even more unexpected could be that the Raiders are second in the league behind Atlanta with only 19 penalties.
They have played one less game than the Falcons, but Oakland's total is quite the turnaround from the 2011-12 team that committed an NFL record for most penalties in a season. The Falcons can expect this Oakland team, desperate for a win, to start playing more aggressively and with a higher sense of urgency. Smith's Falcons will just have to continue not beating themselves.