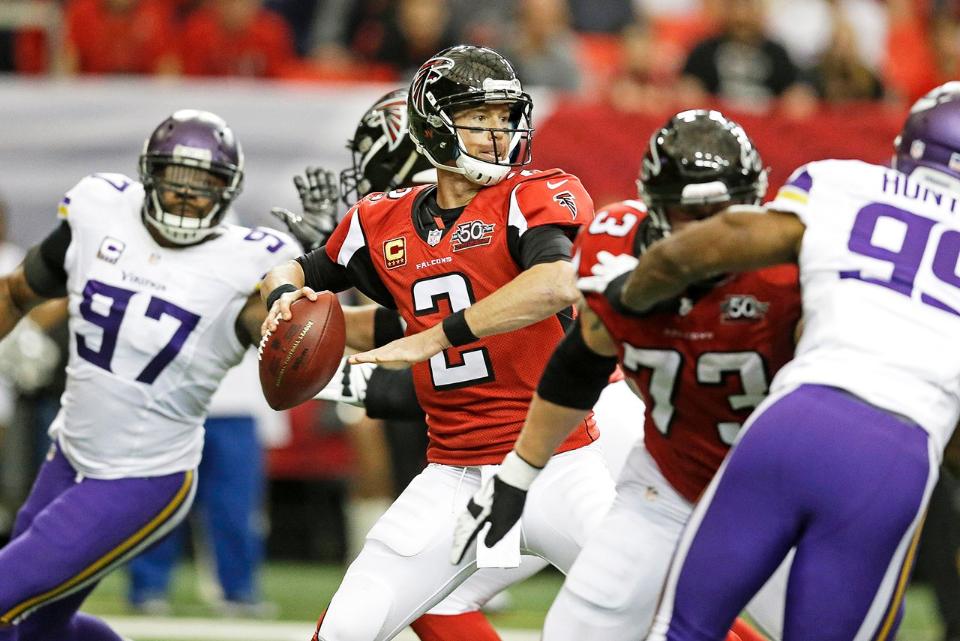 AtlantaFalcon.com
ATLANTA, Ga.— A 20-10 final against the Minnesota Vikings and fourth straight loss has many asking questions about what needs to change for the 2015 Atlanta Falcons. Today, it was the turnovers and continued inconsistent play of their offense.
The Falcons gave the Vikings the ball three different times with two Matt Ryan interceptions and a fumble by rookie running back Tevin Coleman. Ryan has struggled the last three weeks of the season, with a quarterback rating of no better than 93 in those games.
During the Falcons four game losing streak, their quarterback has been intercepted six times. However, he has thrown seven touchdowns during this low point of the season.
After the loss on Sunday, Ryan was his harshest critic.
"Inconsistent," Ryan said. "I think there have been some really good things and just some bad decisions that have cost us. It's disappointing, but I really believe we can get it corrected, I know I can play better, I've done it before and I will do it again, but it's got to start this week. We have to get back to work tomorrow, evaluate what we did today, learn from it and get back to practice.  I'll tell you this, Wednesday can't come fast enough for us to get to the practice field and start preparing for Tampa next week."
If people think the Falcons head coach is going to go away from their franchise quarterback for back up Sean Renfree, then you would be wrong. Head coach Dan Quinn says that will not be happening.
"He's absolutely the competitor I want," Quinn said. "He's what we look for and our team looks for the whole way. We'll go back and find out was there a decision that could be made that could be different. If there is in those scenarios, then we'll find those and say, where else could you have gone with it? The one where we needed to protect the points at the end, those will be decisions we'll look at, but for him, the competitor, the style of player that he is, we're not backing off."
Quinn recognizes that the turnovers continue to plague this team. That said, he's not planning on wholesale changes to what they do during the week or on Sunday's.
We likely will not be seeing tons of starting players being benched to prove a point.
As he has been throughout his entire career, veteran wide receiver Roddy White shared his honest opinion of this team through 11 games this season. In fact, he's remaining positive.
"We are going to be alright," White said. "As long as our defense keeps playing like they are playing, we will eventually come around and start scoring points, and begin to get better on the offensive side of the ball to where we can help those guys out."
The Falcons will now have to hit the road and try to break this four game losing streak. They'll get the Tampa Bay Buccaneers next week, followed by a trip to the Carolina Panthers and then down to Jacksonville for the Jaguars.
The news on the playoff front got even worse on Sunday, with the Seattle Seahawks beating the Pittsburgh Steelers. Thanks to that win by Dan Quinn's former employer, they now a wild card team in the NFC playoff picture.