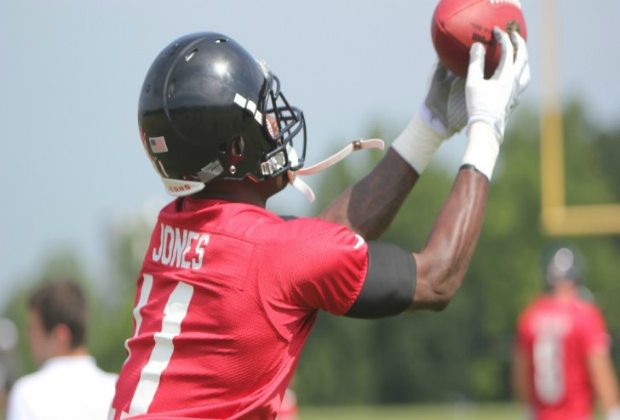 Jay Adams/Atlantafalcons.com
For fervent and faithful Atlanta Falcons fans, this week offers a prime opportunity to make a pilgrimage to the team's headquarters in Flowery Branch. Tomorrow through Thursday (June 19-21) the Falcons will be holding their 2012 minicamp, and the afternoon sessions are open to the public.
The team will conduct walk-throughs on Tuesday and Wednesday morning. Fans can arrive an hour before the 3:30 afternoon practice. (Thursday's open workout begins at 10:30 a.m.). As is custom with the Falcons' fan-friendly tradition, there will be interactive games for kids, as well as, concessions and team gear on sale.
MINICAMP PRIMER …
So what should fans expect to see on the field next week? Probably not head coach Mike Smith or his new coordinators (Mike Nolan on defense and Dirk Koetter on offense) revealing too much about any changes in philosophy. That said, Smith and general manager Thomas Dimitroff emphasize the benefits of "self-scouting," so there should be some glimpses into upcoming "tweaks."
Speaking to the media last week, the tight-lipped Smith did give this tidbit away about the offense.
"We obviously changed some things from last year," said Smith. "Probably more will be the same then changed, but I like the subtle changes we've seen. I like the competition we've seen along the offensive line. … Competition is a very good thing."
Since Smith won't reveal much, here's the skinny. The Falcons offense will likely try to improve in three areas. First, there will be an emphasis on generating more push from the offensive line in short yardage situations. Although running back Michael Turner gained 1,340 yards on the ground in 2011, the hierarchy wants to become more efficient when the team only needs a few precious yards.
Second, fans can expect quarterback Matt Ryan to make more downfield throws in the passing game. Improved line play and a healthy Julio Jones in his sophomore professional season should help. Also, expect the Falcons to implement a more effective screen passing game. Another second-year player, running back Jacquizz Rodgers, and slot receiver Harry Douglas should reap the rewards of this initiative.
Rodgers, who was an effective pass catcher out of the backfield at Oregon State, was more upfront than Smith last week.
"Coach Dirk is a big man who is huge on running the screens, so we have a lot of screens in store."