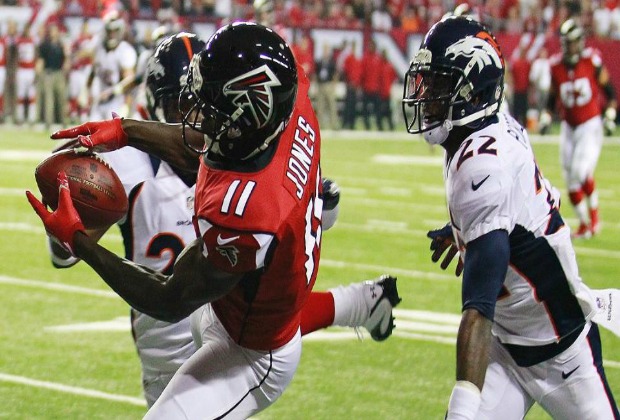 Atlantafalcons.com
The Falcons will get their first taste of division play when the Panthers (1-2) come to the Georgia Dome this Sunday. Carolina's Thursday Night beatdown at the hands of the Giants gave them a long week to make must-needed adjustments before their showdown with the NFC South-leading Falcons. Atlanta (3-0) will be trying to win its fifth straight over the Panthers and record the best start in the Mike Smith/Matt Ryan era.
The Falcons ran through their first trio of challengers by knocking out three of the four AFC West teams with style. After winning in Kansas City and taking out Denver at home, Atlanta headed out west on a short week and proceeded to blast the San Diego Chargers on both sides of the football 27-3.
LOOKING STRONG
Ryan's start has been the story of the NFL quarterbacks so far. He is sitting at the top of the league with a 114.0 rating and has completed 72 percent of his passes, which is also leads the league. His eight touchdowns have been spread out among his weapons and future Hall of Fame tight end Tony Gonzalez caught a touchdown in each of the first three games.
"Gonzalez is probably the best red zone target this league has seen," said Smith after the win in San Diego.
ON THE DOCKET
It is still just Week 4 and the Falcons have found success in the regular season before. There is some pressure riding on avenging three previously disappointing playoff losses.
"This means nothing yet," said safety William Moore after the Denver game. "We are taking it one game at a time. We know that this team's success does not come from one regular season game and we just have to make sure we get better each week and only move forward."
This has been a complete team effort, something Smith has said will be perhaps the most important factor in quenching this group's high expectations. The Falcons have a league-high seven interceptions through the first three games, with three coming from safety Thomas DeCoud, and a league-high four recovered fumbles. Atlanta is one of three unbeaten teams remaining and can take a huge stride forward in the NFC South with a win Sunday.