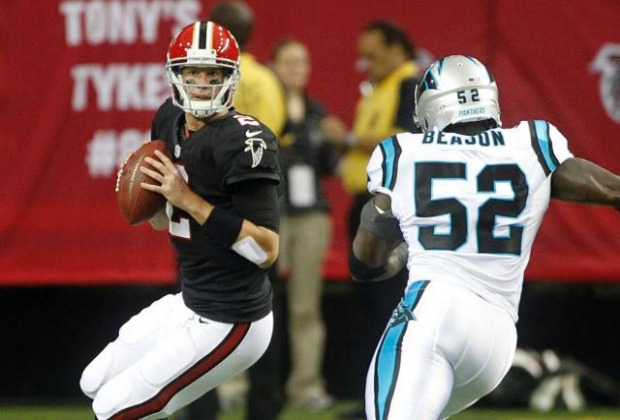 Atlantafalcons.com
The Carolina Panthers gave the Falcons all they could handle Sunday in Atlanta's first division matchup of the season. Cam Newton and the defensive unit had the Panthers in great position to hand Atlanta its first loss of the season.
A 49-yard punt pinned Atlanta back on the one-yard line with just 59 seconds remaining in the game and no timeouts. Matt Ryan found Roddy White on a 59-yard heave out of the end zone and the Falcons took advantage of a defensive pass interference penalty and two quick completions to set up a 40-yard game-winning field goal from Matt Bryant. The kick put Bryant at a perfect 9-for-9 on the season and allowed the Falcons to escape 30-28.
"We have a lot to work still as a team and our preparation for Washington begins first thing [Monday]," said Mike Smith after the game. "Going undefeated in this first quarter of the season has been our main goal, though, so we have to be proud about that."
PROBLEM AREAS
Ryan was sacked seven times after going down just four times through the first three games, as the line could barely contain Carolina's Charles Johnson. The former Georgia Bulldog motored his way to 3.5 sacks. Facing a relentless Carolina pass rush, the offense implemented tactics to exploit the aggressiveness of the defensive unit. Offensive coordinator Dirk Koetter relied on Ryan's ability to handle the pressure and sent backs Michael Turner and Jacquizz Rogers out of the backfield as receivers.
"Matt did a great job of getting the ball out quick and the backs were able to keep our offense moving," said Smith.
Up until the fourth quarter, White was the only receiver who had caught a pass, and while he was having a monster game, the running backs were picking up the slack from Julio Jones and Harry Douglas. Turner took an inside screen from Ryan 60 yards and, for the first time in his career, tallied a receiving touchdown.
Ryan led the offense, completing 25 of 40 passes and a season-high 369 yards, adding three more touchdowns to his total. For the fourth straight week, Ryan posted over a 100.0 quarterback rating, leaving his season mark at a league-best 112.1. Ryan's next challenge will be an interesting matchup with Robert Griffin III, who has Washington at 2-2 early in his rookie season.