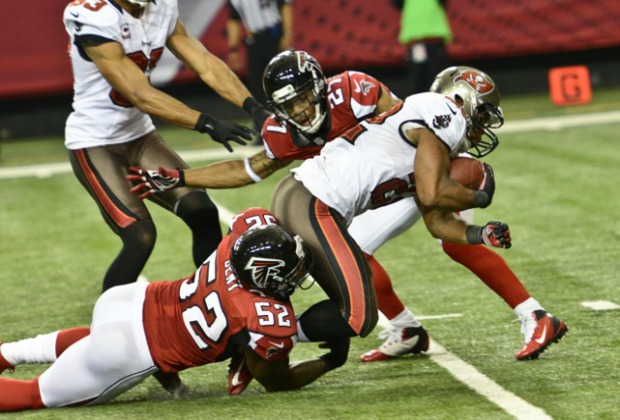 Jon Barash
A new era of Atlanta Falcons football began in the spring of 2008, with the arrival of head coach Mike Smith and quarterback Matt Ryan. The vast majority of the five ensuing years has been a relative paradise—especially compared to previous franchise standards. Smith is 56-24 as the head coach, Matt Ryan is 56-22 as the starting quarterback, the Falcons have not endured a single losing season, they have captured two NFC South titles and they have soared to the playoffs four times.
Ah, playoffs…. Amidst all the success of the last five seasons, a dark, menacing cloud still festers like a sore over the organization. In three trips to the postseason, not once have Smith, Ryan and the rest of the Falcons come away with a victory. It's not simply that these Falcons are winless in the playoffs; it's the way in which they have been unceremoniously bounced. It has gone from bad (a 30-24 road loss to a vulnerable Arizona team) to worse (a 48-21 home blowout at the hands of Green Bay) to embarrassing (a 24-2 setback at the New York Giants).
Only one thing can erase the demons of the past. A 13-3 regular-season record didn't do it. Another NFC South title didn't do it. A trio of Pro Bowlers didn't do it. All of that is well and good, and for more woebegone franchises, it would be enough to guarantee a successful season. Not for the Atlanta Falcons. A playoff win—at long last—is the sole option.
SEATTLE SLEW …
All that stands between the Falcons and what will go down as one of the team's best-ever seasons is Seattle. Of course, the relatively simple sound of that belies the true height of Sunday's hurdle. Heading into this showdown between formidable birds of prey, Atlanta has ruled the roost as the NFC's No. 1 team from start to finish, but it is the Seahawks that have controlled the skies of late. This is nothing new for Atlanta, which is not a good thing based on past playoff transgressions. Once again, Smith's ballclub is running into one of the hottest teams in football right off the bat. In 2008, Kurt Warner's Cardinals scored at least 30 points in four consecutive games (dating back to Week 17) to reach the Super Bowl before losing to Pittsburgh in an absolute thriller.
The Falcons' next two vanquishers both won it all. In 2010, Green Bay won its last six games—regular season and playoffs combined. Last year, the Giants won two in a row to clinch a playoff berth, crushed Atlanta and Green Bay, then squeaked past San Francisco and New England for the title.
"It just kind of works out that way," Falcons offensive tackle Tyson Clabo said of the ongoing trend. "But winning streaks don't have anything to do with what is going to happen out there on Sunday. It's all about how we perform on that day, how they perform on that day. The past isn't anything to concern yourself with."
The present Seattle squad—which can be matched only by Denver in the red-hot department—has won six in a row and eight of its last nine. Despite being criticized for folding away from home, the Seahawks' streak includes three road victories—including 24-14 last weekend at Washington. They have not scored fewer than 20 points in a game since Week 7 and they have reached the half-century mark in two contests during the current surge.
"They're playing very good football right now," Smith said of the Seahawks in his Monday press conference. "Over the past seven or eight weeks, they're playing as well as any team in the league. Offensively, I think it starts with what (Russell Wilson) is doing. He does a very good job running their offense. They're not turning the ball over. They're taking it away. Defensively, they've got—arguably—the best corner duo in the league."
KEY MATCHUPS …
Seattle's two cornerbacks, Brandon Browner and Richard Sherman, present a much different matchup than the one Washington would have offered. The Redskins had a porous secondary that ranked 30th in the NFL against the pass (281.9 yards per game) during the regular season. With Atlanta led by Ryan, Roddy White, Julio Jones, Tony Gonzalez and the rest of its air attack, that was an enticing option. The Seahawks, on the other hand, ranked sixth against the pass (203.1 ypg) and fourth in total defense (306.2 ypg). Gonzalez, who is still in search of his first career playoff win in his 16th season, could be a huge factor in the middle of the field with Browner and Sherman accounting for White and Jones on the outside.
As always, the Falcons' offensive line will be crucial in their efforts to move the football. When it comes to the absence of defensive end Chris Clemons, Seattle's loss is Atlanta's gain. Clemons, who delivered a career-high 11.5 sacks this season, suffered a torn ACL against Washington and is out for the rest of the playoffs. First-round draft pick Bruce Irvin will fill in at the "Leo" position as a hybrid linebacker/defensive end.
On the other side of the ball, Atlanta's opponent presents a stern challenge in the running department. Wilson is a dual threat under center and Marshawn Lynch has been in "beast mode" for the entire season. Lynch finished third in the NFL in rushing with 1,590 yards and he torched the Redskins for 132 yards and a touchdown on just 20 carries.
"We've grown and become more together and more in tune with our QB and what he can do and all that," head coach Pete Carroll told the Seattle Times. "We're a pretty hard team to beat right now."
In their efforts to beat Seattle and slow down a sufficiently heated-up offense, the Falcons will hope to have defensive end John Abraham and safety William Moore at 100 percent. Abraham sustained an ankle injury in a Week 17 loss to Tampa Bay and Moore missed the last four regular-season games with a hamstring problem. Look for Atlanta to stack Sean Weatherspoon and its other linebackers near the line of scrimmage in an attempt to force Wilson to do his damage through the air.
For a fleeting moment last Sunday night, when Washington led Seattle 14-0 in the first quarter, it looked like the Falcons would try to get over the playoff hump against a Redskins team with a hobbled Robert Griffin III or without RGIII altogether. Instead, the Falcons will have to do it the hard way. Again.