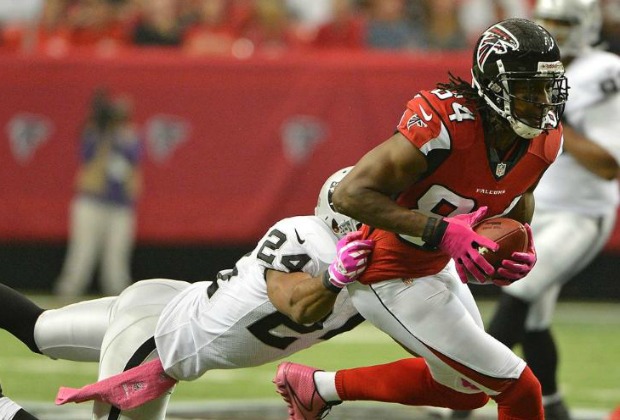 Atlantafalcons.com
Following the dome-rocking, fourth-quarter interception and touchdown by Asante Samuel and Matt Bryant's 55-yard game-winning field goal in Week 6, it was finally time for the NFL's hottest team to enjoy a much-needed week off before preparing for its next list of challenges. At 6-0, Atlanta remains the NFL's only undefeated team and is off to the best start in franchise history.
"I am very happy with our guys and what we did as a team these first six games," said Mike Smith. "We made a lot of mistakes offensive, defensive, special teams and coaching, but we were able to overcome all of that."
R AND R
Before the players iron out those mistakes, the focus last week was to take the week off to get recharged both mentally and physically before getting back to the weekly groundwork.
"It's a good thing that we have some time off because we have a long list of guys who are banged up right now," said Smith.
The bye week gave the entire organization time to reflect and enjoy all the clutch and exciting moments that filled these first six weeks.
"We will enjoy the bye week, but we will also enjoy getting back to football after a week off," said Samuel.
The players are now looking to continue moving forward when they travel to Lincoln Financial Field to take on the Philadelphia Eagles on Sunday. Both of Samuel's Super Bowl rings were with the Patriots, but he will have a homecoming this Sunday in Philadelphia, where he spent four seasons.
The Eagles are 3-3 this season and like the Falcons are coming off a bye week. It's always been a struggle for Atlanta to get a win in Philadelphia, and with this .500 Eagles squad, it's hard to know what kind of team will show up. The Falcons have a four-game lead in the division right now, and a win this week will not only keep them on their best-ever start, but will also push more space between them and the rest of the NFC South. The goal in the regular season is to win the division and seal a first round bye. This week the Falcons can inch closer to these goals.