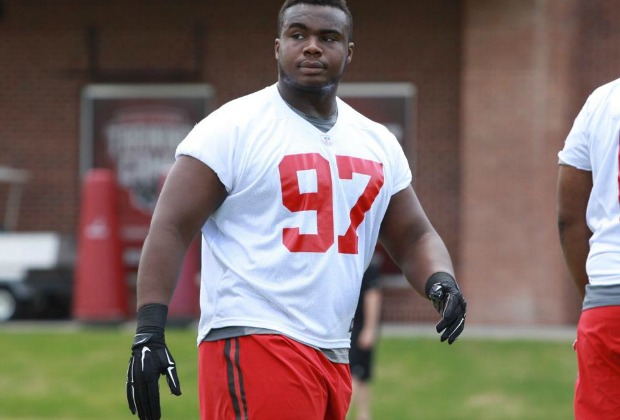 Atlantafalcons.com
The Falcons received high marks from various media outlets about their seven draft picks last week. The media felt like the Falcons were able to hit on all their needs, and they also added depth to positions that will need it in the near future.
But this weekend, it was time for the draft picks as well as numerous undrafted free agents and players invited to tryout to take the field for the first time in a mandatory minicamp at the Falcons training facility in Flowery Branch. Head coach Dan Quinn knows that the rookies have a lot of work to do as time goes forward, but he was really pleased by how hard the players worked on this weekend.
"We had a crisp day," Quinn said after practice on Saturday. "A lot was thrown at them in two days, and we're off to a great start."
Quinn loved how the offense was more efficient in the Day 2, and he also was pleased with the way the defense was able to get after it the last two practices.
But he also mentioned the consistency of defensive tackle Grady Jarrett, the Falcons fifth round pick. Jarrett, who was listed by ProFootballFocus.com as the top steal of the draft, is the son of former Falcons great Jessie Tuggle, and he felt like the Saturday practice went a lot smoother than Friday.
"Today was a better day than yesterday," Jarrett said after the Saturday practice. "Yesterday, I kind of got into the swing of things. But it's a dream come true being out here."
Wide receiver Justin Hardy, the Falcons fourth round pick, has gotten over the fact that he's now in the NFL, and he's ready to become a better football player, and learn from Roddy White and Julio Jones.
"I'm just trying to be the best player I can be," Hardy said. "[White and Jones] are where I'm trying to get. I'm going to be a sponge around them and soak everything up."
Offensive lineman Jake Rodgers, the Falcons first of two seventh round picks, is just glad that he was able to get to Flowery Branch after going through a journey just to get to minicamp.
"I had a couple delays," Rodgers said. "I miss my connecting flight, and I didn't get in until 11:00 the night before [minicamp]. I was flying for about 16 hours."
And as for the Falcons final draft pick, Akeem King, he's still trying to get used to the fast-paced tempo of the NFL.
"It was definitely a lot faster," King said. "It's just something you got to grind through."
But the good thing for all the rookies is they have coaches that are willing to teach the players how to become successful in the NFL, and that's not a very common thing to see.
"We're a developmental staff," Quinn said. "It's one of the most fun parts of coaching, the teaching part of it. Our gratification comes from seeing how far you can pull a player and see the player they become."
One of the things Quinn and his staff told the rookies is to not think too much and just play football. They were all drafted, signed and invited for a reason, and all Quinn wanted them to do is just show it out there on the field.
"It's the first time experiencing, 'what am I suppose to do and how I'm supposed to do it,'" Quinn said when talking about the rookies. "The main thing for us is to see you run, play football and have fun doing it."
Five rookies can have more fun because on Saturday, the Falcons announced they signed, Hardy, Jarrett, Rodgers, King and second round pick Jalen Collins to contracts. The only two draft picks that still haven't signed is first round pick Vic Beasley and third round pick Tevin Coleman. Both players should be signed before training camp which takes place in late July.