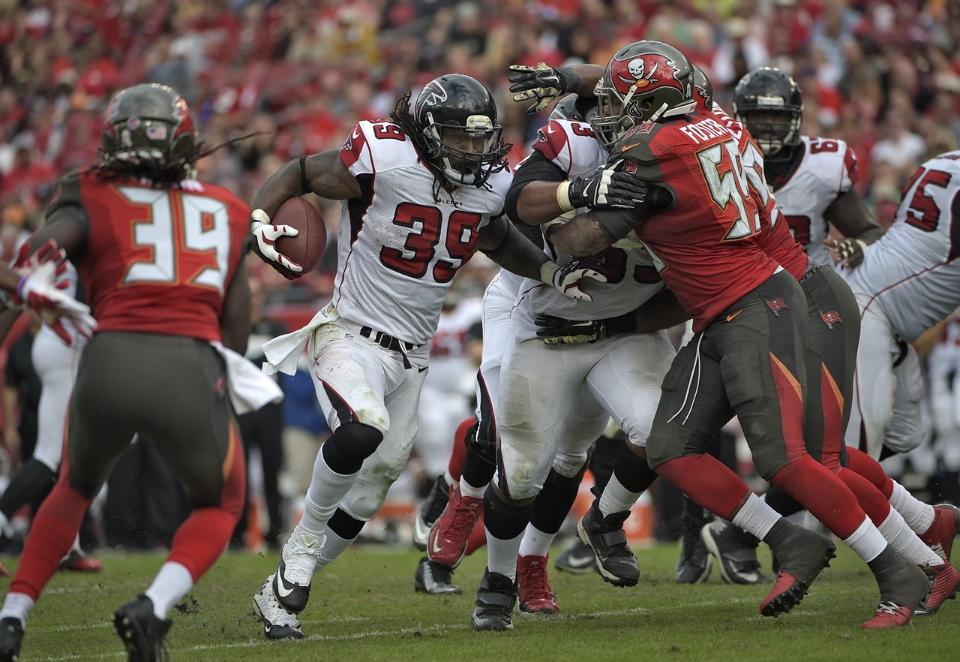 AtlantaFalcons.com
A balanced Falcons offense and a defensive performance that forced three Tampa Bay turnovers produced three sacks propelled Atlanta to a 27-17 victory, and moved the team to 3-0 in the NFC South and 3-6 overall.
Tampa Bay ate up 8:36 of clock to open the game and booted a 51-yard Patrick Murray field goal to cap off the 17-play scoring drive. Atlanta responded with a 1-yard Steven Jackson touchdown run that finished off an 11-play, 78-yard drive and gave the Falcons a 7-3 lead.
Tampa Bay game planned to challenge Atlanta's young corners, Robert Alford and Desmond Trufant, with their height at wide receiver and with 46 second left in the half, Mike Evans hauled in a 22-yard touchdown pass from Josh McCown to tie the game 10-10. Devin Hester returned the ensuing kickoff to midfield and the Falcons were able to take a 13-10 lead into the half after a 43-yard Matt Bryant field goal that was set up by the long return.
The Bucs eventually claimed a 17-16 lead with McCown's second touchdown pass but Atlanta answered with its fourth 10-plus play scoring drive of the game. Matt Ryan found Roddy White for a 5-yard touchdown pass and Atlanta took a 22-17 lead. Following White's touchdown reception, Atlanta attempted its first 2-point conversion of the season. Ryan tossed a jump ball to Harry Douglas, who secured the catch and put Atlanta up 24-17. With 4:10 left, Bryant iced the game with his fourth field goal that made it a two-possession game (27-17).