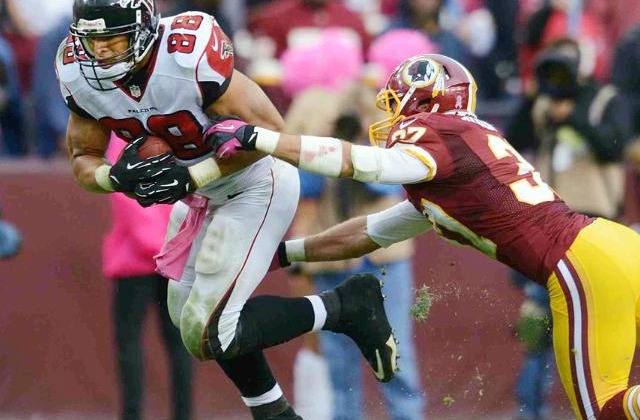 Atlantafalcons.com
When it comes to power rankings in the NFL, they don't carry a lot of weight because those are thrown out the window when the playoff begin.
However, it's always interesting to see who the media thinks is the best team in the NFL, especially when it's the offseason.
Earlier this week, ESPN released its pre-draft power rankings and the Falcons were near the top of the list. Thanks to the signing of Steven Jackson last week, the five experts who voted on the pre-draft power rankings put the Falcons at No. 4.
They are behind the Denver Broncos (No. 3), the San Francisco 49ers (No. 2) who beat the Falcons in the NFC title game and the Seattle Seahawks (No. 1) who lost to the Falcons in the divisional round game.
NFL.com does not show as much love to the Falcons as ESPN, but the Falcons are still ranked high.
Compiled by Elliot Harrison, the Falcons come in at No. 6 behind Super Bowl champs Baltimore (No. 5), Seattle (No. 4), New England (No. 3), Denver (No. 2) and San Francisco (No.1).
Harrison said that signing Jackson was more of a safety valve for Matt Ryan because Jackson is more effective in the passing game than Michael Turner. Harrison also thinks the Falcons will sign a veteran cornerback and get a pass rusher in the draft to fill the glaring holes on defense.
Even Walterfootball.com which is one of the more popular football blogs in the country, has made a pre-draft power ranking list.
Released in early March, Walter Football has the Falcons at No. 8 behind New Orleans (7), Green Bay (6), New York Giants (5), Denver (4) New England (3), San Francisco (2) and Seattle (1).
This list was done before the Falcons resigned Tony Gonzalez and Sam Baker as well as the signing of Jackson. So there is a possibility there will be another set of power rankings from Walter Football right before the draft to reflect the changes in free agency.
Based on the power rankings, the national media thinks the Falcons are legit and will be a Super Bowl contender this upcoming season. It's clear that there are some holes to fill, especially on the defensive side of the ball, but the Falcons still have some money left to grab a key free agent or two as well as addressing needs in the draft. If the Falcons are able to do both of those things effectively, they could be looked at as the best team in the NFL when training camp begins in late July.