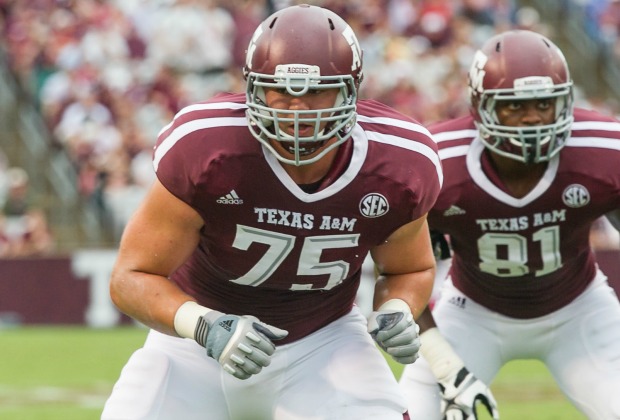 Glen Johnson/Texas A&M
Despite much speculation, Falcons general manager Thomas Dimitroff stayed with the No. 6 pick overall to select Jake Matthews out of Texas A&M. The left tackle was the second at the position to come off the draft board, after Auburn's Greg Robinson was picked by the St. Louis Rams.
That name should sound familiar to Falcons fans for his time with the Aggies playing in the SEC and in the Chick-Fil-A Bowl this past season against Duke. But more importantly for who his dad is, Hall of Fame offensive lineman Bruce Matthews. His dad has always been there for him football-wise to lend an experienced piece of advice.
"His biggest point through this whole process was don't change what's gotten you here," Matthews said via video conference from Radio City Music Hall in New York City. "My entire career I've tried to copy my dad. He's been a role model of mine since I was a kid. He was someone that went in every day, didn't say much, but worked hard and got things done."
Jake joins his dad, uncle Clay Matthews Jr., and cousin Clay Matthews III as members of the family picked in the first round. Jake has bragging rights on the family, being the highest draft pick in the family.
"I'm definitely going to take those rights," Matthews said. "Jeez, I'm the seventh Matthews now coming into the NFL and we have a great reputation in the NFL, (so) I'm just going to try to keep that going."
Matthews believed that the Falcons could be a likely destination all along, after having numerous meetings with the team.
"I had a private workout and official visit with them and always had always had a good feeling every time I left," Matthews said. "I really liked (head) coach Mike Smith and (offensive line coach) Mike Tice really clicked and got along well."
His final season at Texas A&M, Matthews moved over to play left tackle after Luke Joeckel moved on to the NFL. The three seasons prior, Matthews had played the right tackle spot. He also picked up two-time All-American honors and All-SEC marks while playing in College Station. Matthews says that playing in the SEC definitely prepared him for the NFL.
"Going against the top players in the game week in and week out is definitely something that developed my game," Matthews said. "I can't keep saying how much the change is going to be (to the NFL). I know I'm going to be blocking the best players in the world."
Smith said that he's excited to get Matthews inside the gates of the Flowery Branch facility.
"As a coach, you always want to work with guys who love football and Jake Matthews loves football," Smith said in a statement released by the team. "As we were doing our due diligence, we had a number of people tells us about Jake's work ethic, his study habits, and his passion for the game. He played in 52 games at Texas A&M with 46 starts and was a captain as a senior. He fits the bill for the kind of player we want on our team."
Smith has said that he wants bigger and stronger players to be on his football team going forward and Matthews believes that he fits the bill.
"I feel that I'm aggressive," Matthews says. "I'm a guy that knows what it takes to finish, but at the same time not being overly aggressive and doing something stupid. Also, I think I'm a big technician. I take a lot of pride in what it takes to play offensive line and there's a lot more that goes into it than just having a hot head."
On Friday of the draft, the Falcons have the 37th and 68th picks in the second and third rounds. Needs that still need to be met are at defensive end/outside linebacker and safety, among others.