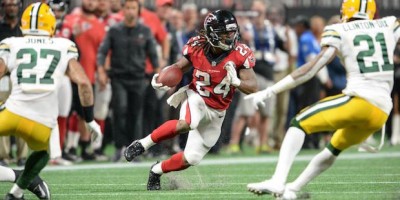 Atlanta Falcons
The Falcons are ready for the biggest game of the young season. The team will look to move to 3-0 on the road this Sunday at Detroit, and here are the head-to-head matchups the Birds will need to win in order to remain undefeated.
DEVONTA FREEMAN VS. TAHIR WHITEHEAD
Devonta Freeman rushed for over 1,000 yards and scored 11 touchdowns in back-to-back seasons, and he's looking to match that this year. The Falcons running back has started off strong in 2017, contributing heavily with two touchdowns in their win over the Packers. With Jarrad Davis possibly sidelined after sustaining a head injury, Tahir Whitehead will have to step up and play a significant role in stopping Atlanta's run game. Last year the linebacker had a career-high 99 total tackles, and he will look to challenge Freeman heading into this Sunday's game.
JULIO JONES VS. DARIUS SLAY
Julio Jones has supreme talent and remains as one of the league's most elite wide receivers. Jones has recorded over 1,400 receiving yards in each of his past three seasons and averages just under seven touchdowns during that period. He'll be matched up against Lions cornerback Darius Slay, a critical piece to Detroit's solid secondary. The Detroit defense currently leads the league with 17 passes defended, so Jones will have to overcome Slay and the rest of the Detroit defensive backfield to create opportunities.
ANDY LEVITRE VS. ZIGGY ANSAH
The Lions pass rush has been off to a good start. They collected five sacks against the New York Giants in their Week 2 matchup, three of which came from Ziggy Ansah. Last season Ansah recorded just two sacks, a career low, and 21 total tackles. He appears ready to bounce back during a strong start to the 2017 season. With the loss of starting right tackle Ryan Schraeder and the addition of rookie Wes Schweitzer, Andy Levitre will have to step up as the veteran guard and help lead his team against a strong Lions defense.
TAKK MCKINLEY VS. MATTHEW STAFFORD
Matthew Stafford recently became the highest-paid player in NFL history and has shown why he deserves to be so. During a Week 1 matchup against a tough Arizona defense, Stafford had no issue displaying his skill. He threw for 292 yards and four touchdowns and showed good mobility scrambling. He added two more touchdowns on the season during his game against the Giants along with 23 rushing yards. With Vic Beasley Jr. sidelined with a hamstring injury, first-round draft pick Takk McKinley will take his place on the field. After a strong showing against Green Bay, McKinley will look to pressure Stafford and break up the rolling Lions offense.